»

Recipes

»

French

»

Brie

»

Crepes With Prosciutto Ham, Cantaloupe And Brie
Crepes With Prosciutto Ham, Cantaloupe And Brie Recipe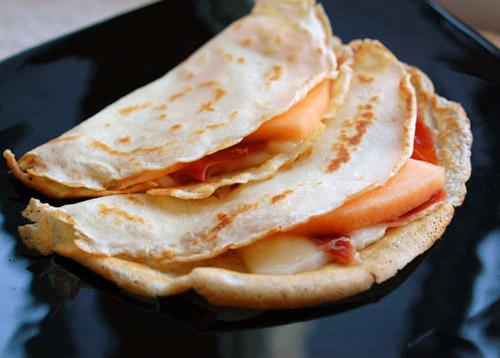 Ingredients
| | | |
| --- | --- | --- |
| | Eggs | 2 Large |
| | Milk | 3⁄4 Cup (12 tbs) |
| | Water | 1⁄2 Cup (8 tbs) |
| | Flour | 1 Cup (16 tbs) |
| | Melted butter | 3 Tablespoon |
| | Salt | 1⁄4 Teaspoon |
| | Thinly sliced prosciutto ham | 1 Cup (16 tbs) |
| | Thinly sliced cantaloupe | 1 Cup (16 tbs) |
| | Cut up brie | 1 |
Nutrition Facts
Serving size
Calories 175 Calories from Fat 77
% Daily Value*
Total Fat 8 g12.9%
Saturated Fat 4.1 g20.6%
Trans Fat 0 g
Cholesterol 63.8 mg
Sodium 567.1 mg23.6%
Total Carbohydrates 13 g4.2%
Dietary Fiber 0.55 g2.2%
Sugars 2.9 g
Protein 11 g22.6%
Vitamin A 20% Vitamin C 14.7%
Calcium 3.3% Iron 4.6%
*Based on a 2000 Calorie diet
Directions
Whirr all this up in a blender except filling obviously, pulsing for about 10-15 seconds until combined. Refrigerate and let rest for one hour. This batter makes about 20 or so small 7 inch crepes.

Step 1:

Put a little butter in a small nonstick skillet on medium heat. When warm, ladle about 1 oz of batter into the pan, swirling around (note that the first one always comes out a little funny, so make it and eat it, or toss it). When it's ready to flip (usually about 30-60 seconds), it will be dry on top and crinkly around the edges. Use a rubber spatula to peek if necessary, when it gets close to being ready to flip it will release from the pan.

Step 2:

Once you flip, the other side will only take about a minute, so put your toppings on half of the crepe, like an omelet.

Step 3:

When done, fold and serve.

creps are pancake which are made from refined flour, egg, butter & milk. tortillas r unleavened flat bread from mexican cusine made from ground maize(corn) or wheat flour. also creps r soft as compared to tortillas.
Posted on:
30 May 2007 - 6:40pm
looks cool, chef !
Posted on:
30 May 2007 - 6:39pm