»

Recipes

»

Bread

»

Crepes
Crepes Recipe
Village Bakery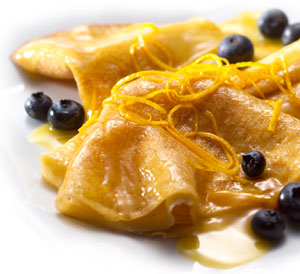 Ingredients
Plain flour

4 Ounce

(120 Gram)

Salt

1 Pinch

Egg

1

Milk

1⁄2 Pint

(280 Milliliter)

Vegetable oil

1 Teaspoon

Lemon

1

, juiced and zested

Orange

1

, juiced and zested
Nutrition Facts
Serving size
Calories 127 Calories from Fat 29
% Daily Value*
Total Fat 3 g5.1%
Saturated Fat 1.2 g6%
Trans Fat 0 g
Cholesterol 39.2 mg
Sodium 70.6 mg2.9%
Total Carbohydrates 21 g7.1%
Dietary Fiber 1.5 g6.2%
Sugars 4.6 g
Protein 4 g7.5%
Vitamin A 2.9% Vitamin C 32.3%
Calcium 6.9% Iron 1.8%
*Based on a 2000 Calorie diet
Directions
1. Sieve the flour and the salt into a large bowl and make a well in the centre.
2. Put the egg and the milk into a jug and beat well.
3. Gradually pour the egg and milk mixture into the centre of the bowl and mix it in gently, stirring and drawing in the flour from the sides, until all has been incorporated. Beat to ensure even mixing.
4. Heat a little oil in a small frying pan, and pour in enough batter to make a thin pancake.
5. Quickly tilt and rotate the frying pan so that the batter coats the bottom of it evenly.
6. Cook the pancake over a moderate heat until the underside has turned brown and the top has set.
7. Carefully turn the pancake over and brown the other side in the same way.
8. Turn each pancake out onto greaseproof paper and keep them warm until required.
9. Serve the pancakes hot with freshly squeezed orange and lemon juice and decorate with the zested citrus rind.