»

Recipes

»

French

»

Crepe

»

Crepes
Crepes Recipe
Crepes have always been a great snack or dessert dish. You will enjoy them plain or stuffed as sweet or savory. Each crepe recipe will take you by surprise. Try this recipe of plain crepes, fill them with filling of your choice.
Crepes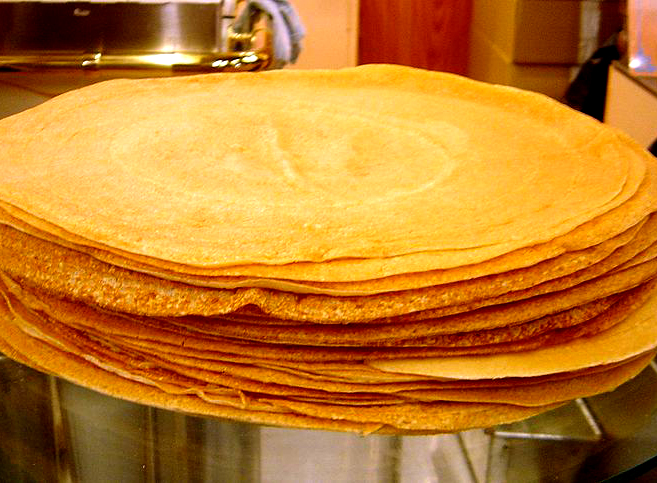 Ingredients
Eggs

4 Small

Milk

2 Cup (16 tbs)

Vanilla

1 Teaspoon

Sugar

1 Tablespoon

Salt

1/2 Teaspoon

All-purpose flour-1 1/2cups

Butter/Margarine

1 Tablespoon

Brandy or Curacao-1 tablespoon

Sugar

1/2 Cup (16 tbs)

Orange rind

1 Tablespoon
Directions
MAKING
1)In a bowl, beat eggs until frothy.
2)In another bowl, mix milk, vanilla, and also the sugar and salt.
3)Slowly add flour and mix.
4)Add 3 tablespoons melted butter and brandy, beat until smooth.
5)Make a thin batter.
6)Take heavy 5- or 6-inch skillet, and heat 1 tablespoon butter in it.
7)Drop batter enough to cover the bottom, to make thin pancake.
8)Cook until bubbles appear and the underside is browned.
9)Flip and lightly brown the other side.
10)In a small pan, heat a teaspoon of butter to sizzling for each crepe.
11)In a bowl, beat together 1/3 cup butter and 1/2 cup sugar with orange rind until smooth.
12)Spread a little on the brownest side of each crepe and fold it into a 4 layered triangle.
13)Refrigerate until 1 hour before chafing time.

SERVING
14)Heat the crepes and serve them hot.

TIPS
Crepes may be made several days in advance.