»

Recipes

»

American

»

Creole

»

Creole Chicken Stew
Creole Chicken Stew Recipe
Creole Chicken Stew is easy to make. The tomatoes and hot-pepper sauce gives the Creole chicken stew a strong taste and makes it MUST TRY recipe!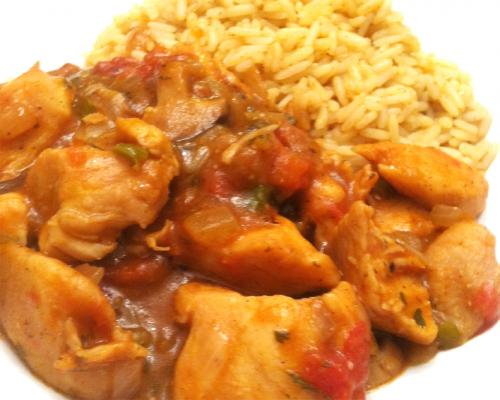 Ingredients
Salad oil

1/4 Cup (16 tbs)

Fryer chicken

1 3 pound

1 medium-sized onion, diced

1 medium-sized green pepper, diced

Stalk celery

1

, diced

Garlic

1 Clove (5gm)

, minced

All purpose flour

1 Tablespoon

Tomatoes

1 28 Ounce

1 12-ounce can whole-kernel corn

1 10-ounce package frozen okra, slightly thawed, cut into 1/2 inch slices

Salt

1 Teaspoon

Pepper sauce

1/2 Teaspoon

1 cup regular long-grain rice
Directions
1. In 8-quart Dutch oven over medium-high heat, in hot salad oil, cook chicken until well browned on all sides; remove to bowl.
2. In drippings remaining in Dutch oven, over medium heat, cook onion, green pepper, celery, and garlic until lightly browned, about 15 minutes. With slotted spoon, remove onion mixture to bowl with chicken.
3. Into drippings in Dutch oven, stir flour. Stir in tomatoes and corn with their liquids, then okra, salt, and hot-pepper sauce. Return chicken mixture to Dutch oven; heat to boiling. Reduce heat to low; cover and simmer 30 minutes, stirring occasionally, until chicken is fork-tender.
4. Meanwhile, prepare rice as label directs.