»

Recipes

»

Custard
Creme Brulee Recipe
You don't always have to fret over your Creme Brulee not being so smooth; this recipe for Creme Brulee is definitely your guide to make a silky smooth Creme Brulee! So here is your chance to impress your loved ones and I think you should give this untimately flavorsome Creme Brulee a try!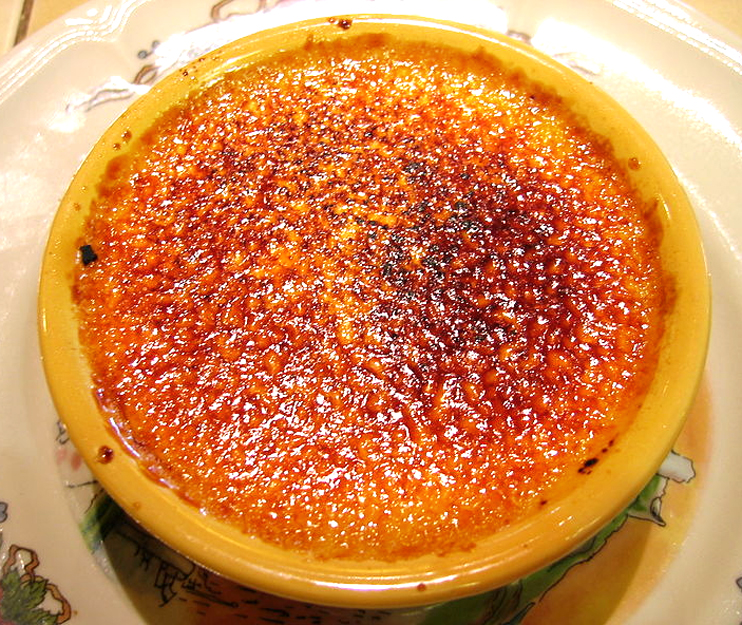 Ingredients
Vanilla flavor pudding and pie filling

1 Cup (16 tbs)

(1 Package)

Light cream/Half and half

1 Quart

Eggs

2

, beaten

Vanilla

1 Teaspoon

Packed brown sugar

1⁄4 Cup (4 tbs)

, sieved
Nutrition Facts
Serving size: Complete recipe
Calories 4117 Calories from Fat 2660
% Daily Value*
Total Fat 302 g465.2%
Saturated Fat 186 g930.2%
Trans Fat 0 g
Cholesterol 1473.1 mg
Sodium 1896 mg79%
Total Carbohydrates 314 g104.7%
Dietary Fiber 0 g
Sugars 242.8 g
Protein 33 g66.4%
Vitamin A 201.4% Vitamin C 9.5%
Calcium 75.3% Iron 35.2%
*Based on a 2000 Calorie diet
Directions
Combine pudding mix and cream in medium saucepan; blend well.
Cook and stir over medium heat until mixture comes to a full boil.
Remove from heat.
Stir small amount of hot mixture into eggs, mixing well.
Return egg mixture to remaining hot mixture, stirring constantly.
Cook over low heat for 1 minute, stirring constantly.
Add vanilla and pour into shallow 1 1/2-quart baking dish.
Chill at least 3 hours.
Evenly sprinkle brown sugar over top of pudding.
Broil until sugar melts, about 1 1/2 minutes.
Serve warm or chill.
Serve over fruit or cake, if desired.