»

Recipes

»

Glaze

»

Creme Vichyssoise Glace
Creme Vichyssoise Glace Recipe
Creme Vichyssoise Glace is a creamy, peppy and appetizing vegetable soup. Traditionally prepared in France with leeeks, potatoes and onions, the Creme Vichyssoise Glace is light yet flavorful.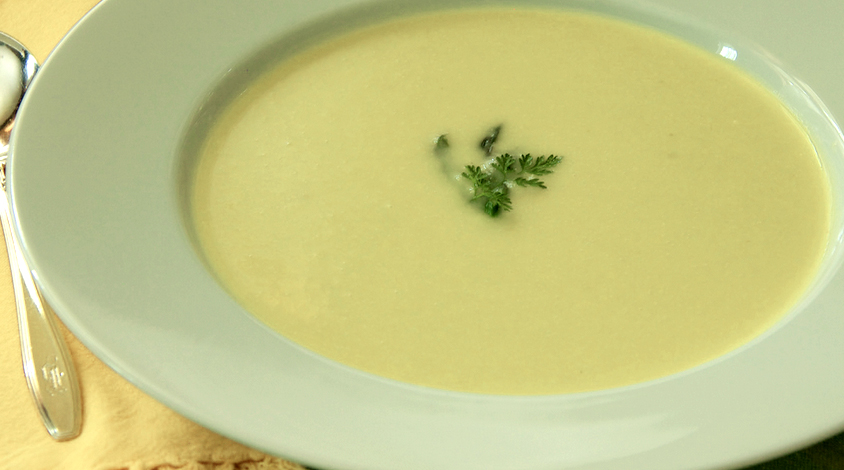 Ingredients
Leeks

4

Salt

1 Tablespoon

Onion

1

, sliced

Milk

2 Cup (32 tbs)

Butter

2 Tablespoon

Light cream

1 Cup (16 tbs)

Potatoes

6 Medium

, sliced

Heavy cream

1 Cup (16 tbs)

Chicken broth/Water/ combination of both

1 Quart

Chives

1 Tablespoon

, chopped
Nutrition Facts
Serving size: Complete recipe
Calories 3599 Calories from Fat 1817
% Daily Value*
Total Fat 207 g317.8%
Saturated Fat 126.3 g631.6%
Trans Fat 0 g
Cholesterol 705 mg
Sodium 8840.4 mg368.3%
Total Carbohydrates 405 g135%
Dietary Fiber 45.7 g182.8%
Sugars 86.3 g
Protein 69 g137.7%
Vitamin A 530.4% Vitamin C 601.1%
Calcium 167.4% Iron 180.4%
*Based on a 2000 Calorie diet
Directions
Wash leeks very carefully and discard green stalks.
Slice the white part, combine with onion, and cook in melted butter until limp but not brown.
Add potato slices, chicken broth, and salt.
Bring to a boil and boil 35 minutes.
Rub through a fine strainer or puree in an electric blender, return to heat, and add milk and light cream.
Season to taste and bring to a boil.
Do not cook further.
Finally, add the heavy cream and chill thoroughly in the refrigerator.
Image Courtesy :
http://www.flickr.com/photos/cedarsummitfarm/7180872651/