»

Recipes

»

Soup

»

Creamy Potato Soup
Creamy Potato Soup Recipe
One potato, two potato, five potato soup! Easy, flavorful, creamy potato soup is just five potatoes away.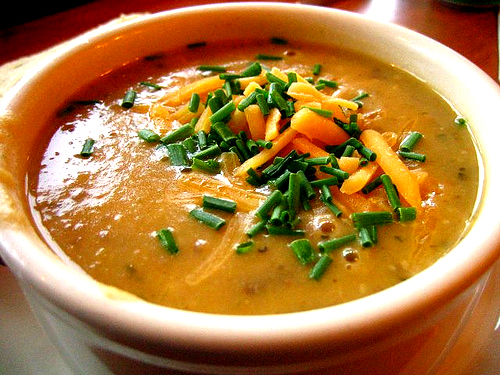 Summary
Preparation Time
10 Min
Cooking Time
35 Min
Ready In
45 Min
Difficulty Level
Easy
Health Index
Healthy
Servings
4
Ingredients
Potatoes

5 Medium

, cut up (peeled)

Celery stalk

1⁄2 Cup (8 tbs)

, sliced (1 medium sized)

Water

1⁄4 Cup (4 tbs)

Milk

1 Cup (16 tbs)

Salt

3⁄4 Teaspoon

White pepper

1⁄8 Teaspoon

Green onions

2

, thinly sliced
Nutrition Facts
Serving size
Calories 205 Calories from Fat 18
% Daily Value*
Total Fat 2 g3.2%
Saturated Fat 1.1 g5.6%
Trans Fat 0 g
Cholesterol 5.6 mg
Sodium 411.2 mg17.1%
Total Carbohydrates 44 g14.6%
Dietary Fiber 5.2 g21%
Sugars 5.1 g
Protein 6 g12.8%
Vitamin A 7.4% Vitamin C 76.4%
Calcium 10% Iron 10.4%
*Based on a 2000 Calorie diet
Directions
1. Heat 1 1/2 cups water to boiling in 3-quart saucepan. Add potatoes and celery. Cover and heat to boiling; reduce heat. Simmer about 20 minutes or until potatoes are tender.
2. Drain liquid into blender. Remove 3 cups cooked vegetables from saucepan; place in blender with liquid. Add 1/4 cup water. Cover and blend about 1 minute until smooth.
3. Stir pureed vegetables back into saucepan. Stir in remaining ingredients; heat over medium heat, stirring occasionally, until hot.