»

Recipes

»

Praline

»

Creamy Pecan Pralines
Creamy Pecan Pralines Recipe
Creamy Pecan Pralines packs in the richness of pecan, butter and dessert seasonings. You can easily prepare this yum dessert. Just check out the recipe listed here.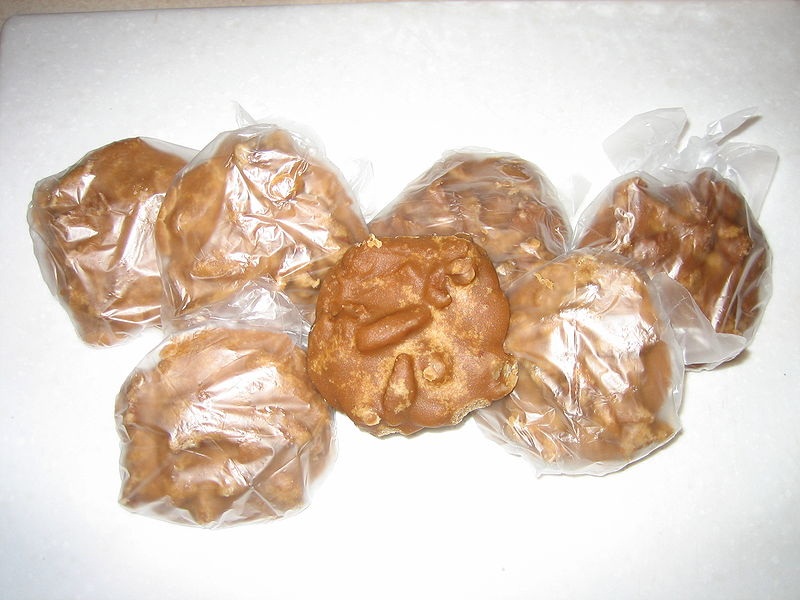 Ingredients
White sugar

2 Cup (32 tbs)

Firmly packed brown sugar

1 Cup (16 tbs)

Milk

1⁄2 Cup (8 tbs)

Evaporated milk

1⁄2 Cup (8 tbs)

Butter

1⁄4 Cup (4 tbs)

(1/2 Stick)

Salt

1⁄4 Teaspoon

Broken pecans

3 Cup (48 tbs)
Nutrition Facts
Serving size: Complete recipe
Calories 5413 Calories from Fat 2579
% Daily Value*
Total Fat 305 g469.4%
Saturated Fat 58 g290.1%
Trans Fat 0 g
Cholesterol 169.4 mg56.5%
Sodium 734.8 mg30.6%
Total Carbohydrates 688 g229.5%
Dietary Fiber 32.8 g131.3%
Sugars 651.3 g
Protein 44 g88.9%
Vitamin A 40.2% Vitamin C 10.3%
Calcium 90.6% Iron 58.8%
*Based on a 2000 Calorie diet
Directions
Combine sugars, milk with butter and salt in heavy saucepan, bring slowly to full rolling boil over medium low heat.
Add nuts and continue boiling until soft ball stage, 234 F° on candy thermometer.
Remove from heat and stir rapidly until mixture is stiff, but not too stiff.
Spoon out on buttered wax paper to cool.
Candy thermometer is essential.
Image Courtesy :
http://en.wikipedia.org/wiki/File:Sweet_Julep%27s_pralines_on_a_cutting_board.jpg