»

Recipes

»

Creamy Cheesecake
Creamy Cheesecake Recipe
This Creamy Cheese Cake is a true delight for anyone who enjoys a great treat! Yes, here's a simple and rather effortless recipe of Creamy Cheese Cake for you to try. Let me know how it turned out for you!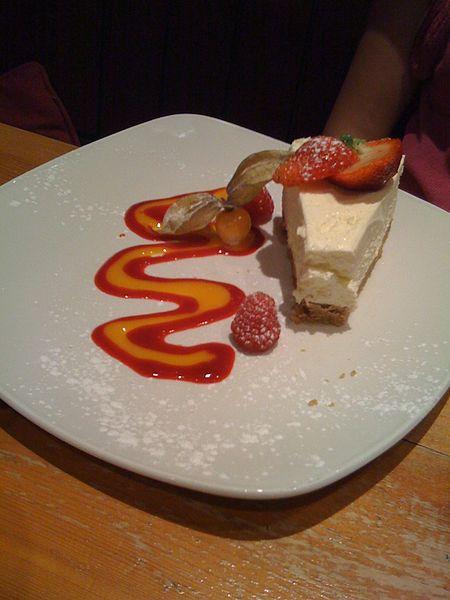 Ingredients
6 cups cornflakes or I1/2 cups packaged corn flake crumbs

1/3 cup soft butter or margarine

Sugar

1/4 Cup (16 tbs)

(Crust:)

3 8-ounce packages cream cheese, softened

Sweetened condensed milk

1 1/3 Cup (16 tbs)

(Filling:)

Eggs

4

, separated (Filling:)

Sour cream

1 Cup (16 tbs)

(Filling:)

Confectioner's sugar

1 Tablespoon

(Filling:)

1 teaspoon vanilla flavoring

1 teaspoon grated orange or lemon rind

Salt

1/2 Teaspoon

(Filling:)
Directions
If using corn flakes, crush into fine crumbs.
Combine corn flake crumbs, butter and sugar; mix well.
Reserve 1/2 crumbs mixture for topping; press remainder evenly and firmly into bottom of 10-inch spring form pan.
Using electric mixer, combine cheese and milk.
Increase speed while adding egg yolks, one at a time, beating well after each addition until mixture is very smooth.
Decrease speed slightly and add sour cream, sugar, vanilla and orange rind.
Beat egg whites with salt until stiff but not dry; fold into cheese mixture.
Pour into crumb-lined pan; top with reserved crumbs mixture.
Bake in slow oven (300°F.) about 11/2 hours, or until knife inserted near center comes out clean.
Cool in oven with door open.
Do not remove from pan until completely cold.
Garnish with sweetened sliced strawberries, if desired.