»

Recipes

»

Stew

»

Creamy Pork And Apple Stew
Creamy Pork and Apple Stew Recipe
Your search for a winning Creamy Pork And Apple Stew recipe ends at this place. The marriage of the incredible flavors of apple with other ingredients is the secret to this Creamy Pork And Apple Stew recipe. This Creamy Pork And Apple Stew is a High Protein recipe. This Creamy Pork And Apple Stew when served as an Appetizer will bring happiness in your dining room. I thought of Simply yummy, what are the words that come to your mind instantly on tasting this Creamy Pork And Apple Stew recipe?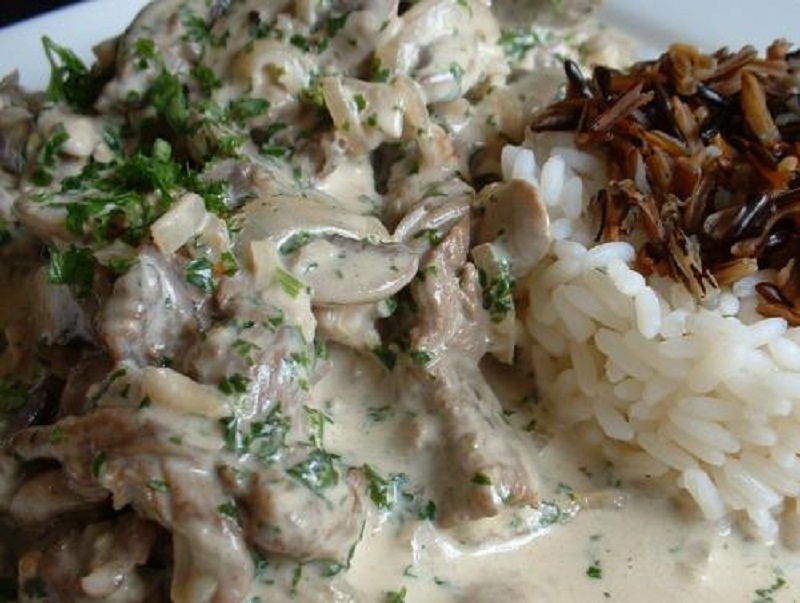 Ingredients
Margarine

2 Teaspoon

Sliced onion

1⁄4 Cup (4 tbs)

Garlic

1 Clove (5 gm)

, minced

Water

3⁄4 Cup (12 tbs)

Instant chicken broth and seasoning mix

1 Ounce

(1 Packet)

Cubed cooked pork

8 Ounce

Salt

1⁄4 Teaspoon

Ground sage

1⁄4 Teaspoon

Apple

1 Small

, cored, pared and cut into 1/2 inch-thick slices

Golden raisins

2 Tablespoon

Cornstarch

2 Teaspoon

Plain low fat yogurt

1⁄4 Cup (4 tbs)

Cooked long grain rice

1 Cup (16 tbs)

(Hot)
Nutrition Facts
Serving size: Complete recipe
Calories 897 Calories from Fat 293
% Daily Value*
Total Fat 33 g50.3%
Saturated Fat 10.4 g52.2%
Trans Fat 0 g
Cholesterol 122.8 mg
Sodium 1655.9 mg69%
Total Carbohydrates 104 g34.7%
Dietary Fiber 7.6 g30.3%
Sugars 39.3 g
Protein 51 g102.1%
Vitamin A 10.3% Vitamin C 16.4%
Calcium 16.2% Iron 6.9%
*Based on a 2000 Calorie diet
Directions
In 2-quart saucepan heat margarine over medium heat until bubbly and hot; add onion and garlic and saute, stirring constantly, until onion is translucent, about 3 minutes.
Add water and broth mix and stir to combine; bring to a boil.
Reduce heat to a simmer and add pork and seasonings; cover and cook until pork is fork-tender, about 1 hour.
Stir apple slices and raisins into pork mixture; cover and cook until apple slices are tender, about 15 minutes.
Add cornstarch to yogurt and stir until thoroughly combined; stir into pork mixture and immediately remove from heat.serve with rice,sprinkle with parsley.