»

Recipes

»

Creamed Grated Cauliflower
Creamed Grated Cauliflower Recipe
Creamed grated cauliflower is an amazing side dish. It can be served as an appetizer at times. The creamy flavor is enhanced by paprika. A delicious , simple and easy treat, this creamed grated cauliflower is one that I love to try.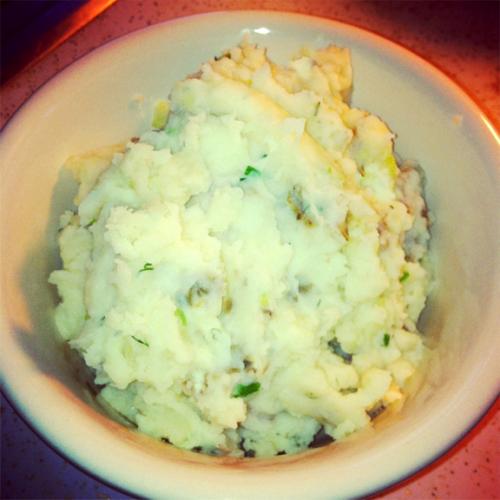 Summary
Preparation Time
5 Min
Cooking Time
20 Min
Ready In
25 Min
Difficulty Level
Easy
Health Index
Average
Servings
4
Ingredients
Cauliflower

1

Salt

1⁄2 Teaspoon

Butter

2 Tablespoon

Cream

3 Tablespoon

Paprika

To Taste

Parsley

7 Tablespoon

, minced
Nutrition Facts
Serving size
Calories 148 Calories from Fat 61
% Daily Value*
Total Fat 7 g10.6%
Saturated Fat 4.3 g21.6%
Trans Fat 0 g
Cholesterol 16.9 mg
Sodium 329.5 mg13.7%
Total Carbohydrates 20 g6.5%
Dietary Fiber 5.2 g20.8%
Sugars 8.3 g
Protein 5 g9.3%
Vitamin A 51.5% Vitamin C 189.9%
Calcium 10% Iron 13.5%
*Based on a 2000 Calorie diet
Directions
GETTING READY
1)Take a shallow dish, and put cauliflower and cold water in it. Leave it until it is crisp, drain.
2)Shred cauliflower with coarse shredder.

MAKING
3)In a skillet, put the cauliflower and sprinkle salt. Add 1/3 cup hot water and cover tightly.
4)Cook it for 5 to 7 minutes or until just tender. Do not drain.
5)Now, add butter and cream, tossing with fork.

SERVING
6)Take a serving dish put cauliflower and sprinkle with paprika and parsley. Serve hot.