»

Recipes

»

Soup

»

Cream Of Tomato Soup
Cream Of Tomato Soup Recipe
I love to open the meal with a real good appetizer and this Cream of Tomato Soup is my personal favorite everytime. Use of stewed tomatoes, instead of whole ones and fresh herbs give this Cream of Tomato Soup a real different flavor, what everyone have always loved. Give it a try and let me know if your family liked it too.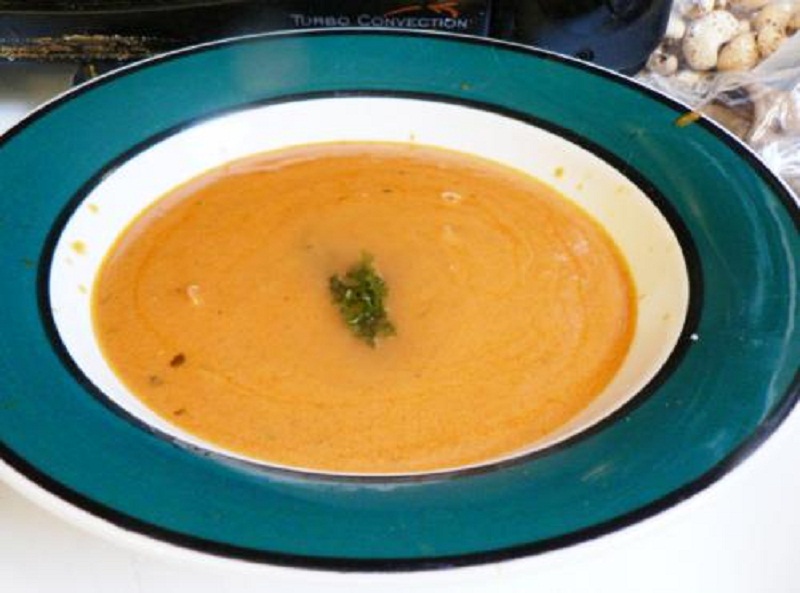 Ingredients
Stewed tomatoes

3 Cup (48 tbs)

Bay leaves

2

Parsley sprigs

2

Onion

1

, sliced

Cloves

2

Sugar

1 Teaspoon

Peppercorns

4

White sauce

3 Cup (48 tbs)

Salt

3⁄4 Teaspoon
Nutrition Facts
Serving size
Calories 189 Calories from Fat 71
% Daily Value*
Total Fat 8 g12.5%
Saturated Fat 2.6 g13%
Trans Fat 0 g
Cholesterol 9.6 mg
Sodium 795.9 mg33.2%
Total Carbohydrates 23 g7.7%
Dietary Fiber 1.9 g7.4%
Sugars 14.8 g
Protein 6 g12.1%
Vitamin A 13.4% Vitamin C 23.9%
Calcium 23.3% Iron 9.4%
*Based on a 2000 Calorie diet
Directions
Simmer together first seven ingredients until tender, about 20 minutes,press through a sieve and keep hot.
Make Medium White Sauce and combine with first mixture just before serving to avoid curdling.
Add salt and.serve.