»

Recipes

»

Soup

»

CREAM OF TOMATO SOUP
CREAM OF TOMATO SOUP Recipe
When it comes to enhancing your mood, this Cream of Tomato Soup recipe beats chocolate hands down.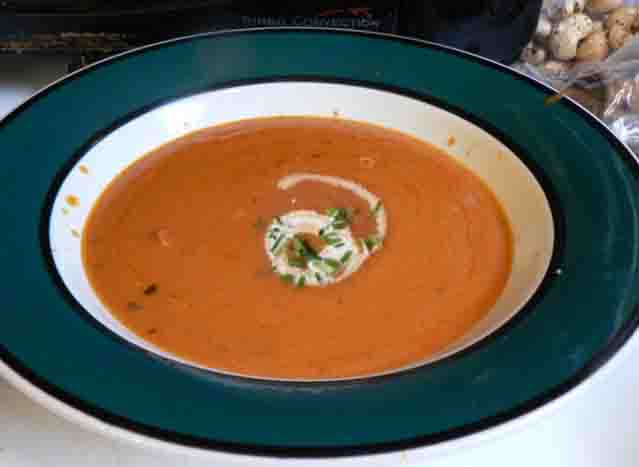 Ingredients
Ripe tomatoes - 2 pound or Tomato puree - 1 can

Hot milk - 1 pint

Leek or onion – 1, sliced

White stock - 1 pint

Butter or oil - 1 ounce

Top milk or cream - 1/2 pint

Garlic

1/2 Clove (5gm)

Semolina - 1 tablespoon or Potato - 1

Parsley – few sprigs, chopped

Basil

1 Tablespoon

, chopped

Salt

To Taste

Pepper

To Taste
Directions
GETTING READY
1. Scald tomatoes.
2. Add sugar and let it stand for 15 minutes.

MAKING
3. In a heavy pan, heat oil or melt butter.
4. Add onion or leek and garlic. Cook until glazed.
5. Add tomatoes, parsley, semolina and herb. Cook for three minutes.
6. Season as per taste.
7. Add white stock or vegetable water. Let it simmer gently on a very low flame for an hour.
8. Strain to form puree.
9. In a large saucepan, heat hot milk.
10. Add puree.
11. Remove from flame and add top milk or cream.
12. Reheat till it almost reaches boiling point.

SERVING
13. Serve Cream of Tomato Soup topped with parsley.