»

Recipes

»

Soup

»

Cream Of Cucumber Soup
Cream Of Cucumber Soup Recipe
Cream of cucumber soup is another quick and simple, healthy recipe to use and eat cucumbers. This recipe calls for cooking cucumbers with butter, green peppers and seasoning. A great appetizer to try!!!
Cream Of Cucumber Soup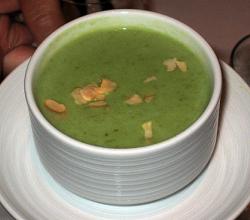 Ingredients
Cucumbers

4

Celery

1 Cup (16 tbs)

, chopped

Onion

2 Tablespoon

, chopped

Green pepper

1 Tablespoon

, chopped

Milk

4 Cup (64 tbs)

Butter

4 Tablespoon

, melted

Flour

4 Tablespoon

Salt

1 Teaspoon

Pepper

1 Dash

Cream

1 Cup (16 tbs)

Cream of cucumber

1 Cup (16 tbs)
Nutrition Facts
Serving size
Calories 545 Calories from Fat 302
% Daily Value*
Total Fat 33 g50.7%
Saturated Fat 10.8 g53.9%
Trans Fat 0 g
Cholesterol 39.3 mg
Sodium 841.1 mg35%
Total Carbohydrates 58 g19.2%
Dietary Fiber 1.2 g4.9%
Sugars 29.5 g
Protein 8 g16.4%
Vitamin A 13.5% Vitamin C 9.7%
Calcium 28.2% Iron 4.7%
*Based on a 2000 Calorie diet
Directions
GETTING READY
1)Pare and finely chop cucumbers.

MAKING
2)On a double boiler, put the cucumbers in it.
3)Add celery, onion, green pepper and milk to cucumbers. Mix well.
4)Cook for 20 minutes or until cucumbers are tender.
5)In a bowl, mix butter, flour, salt and pepper.
6)Add to cucumber mixture.
7)Cook for 10 minutes until thickened. Keep stirring.
8)Press mixture through sieve and add cream, heat it.

SERVING
9)Garnish soup with parsley and serve hot.