»

Recipes

»

Torte

»

Cream Torte
Cream Torte Recipe
Cream Torte is a mouth watering dish which you would surely want to get your guest's attention. I bet, clubbing these Cream Torte with your favorite accompaniment would be just heavenly!
Cream Torte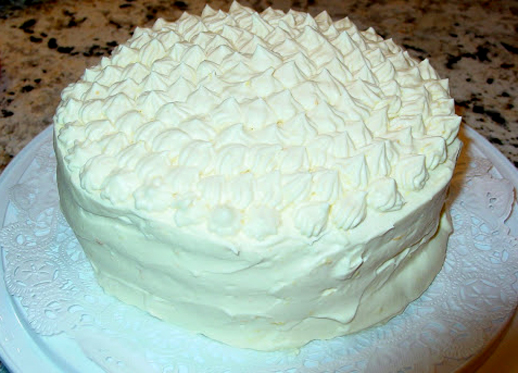 Ingredients
Zwieback

6 Ounce

, ground (1 Box)

Cinnamon

1 Teaspoon

Vanilla

1 Teaspoon

Butter

1⁄2 Cup (8 tbs)

, melted

Sugar

1⁄2 Cup (8 tbs)

Milk

5 Cup (80 tbs)

Sugar

5 Tablespoon

Cornstarch

5 Teaspoon

Egg whites

6

, stiffly beaten

Egg yolks

6

Salt

1 Pinch
Nutrition Facts
Serving size: Complete recipe
Calories 3388 Calories from Fat 1540
% Daily Value*
Total Fat 173 g266.5%
Saturated Fat 87.5 g437.4%
Trans Fat 0 g
Cholesterol 1465.4 mg
Sodium 1265.3 mg52.7%
Total Carbohydrates 392 g130.8%
Dietary Fiber 2.9 g11.5%
Sugars 257.8 g
Protein 92 g183.7%
Vitamin A 105.5% Vitamin C 0.32%
Calcium 148.5% Iron 61.5%
*Based on a 2000 Calorie diet
Directions
Combine zwieback crumbs, melted butter, sugar, and cinnamon.
Reserve 1 cup of this crumb mixture and press remaining crumbs onto bottom and sides of a 9X11X2 inch cake pan.
Heat 4 cups of the milk.
In a saucepan combine cornstarch, sugar, egg yolks, salt, and the remaining cup of milk.
Gradually stir in hot milk.
Cook over low heat, stirring constantly, for about 8 minutes or until custard thickens.
Add vanilla.
Pour custard mixture into prepared pan.
Spread beaten egg whites evenly over the custard, sprinkle with reserved crumb mixture, and bake in a 350 degree over for 40 to 45 minutes.
Cool and cut into squares.