»

Recipes

»

Soup

»

Cream Of Potato And Leek Soup
Cream of Potato and Leek Soup Recipe
Here's a Cream Of Potato And Leek Soup recipe that you will fall in love with! The ingredients used, make this soup a great treat. Pamper everyone with Cream Of Potato And Leek Soup as an Appetizer. I strongly recommend the Cream Of Potato And Leek Soup, make it for your family and grab some compliments.
Cream of Leek and potato soup by Steven Dolby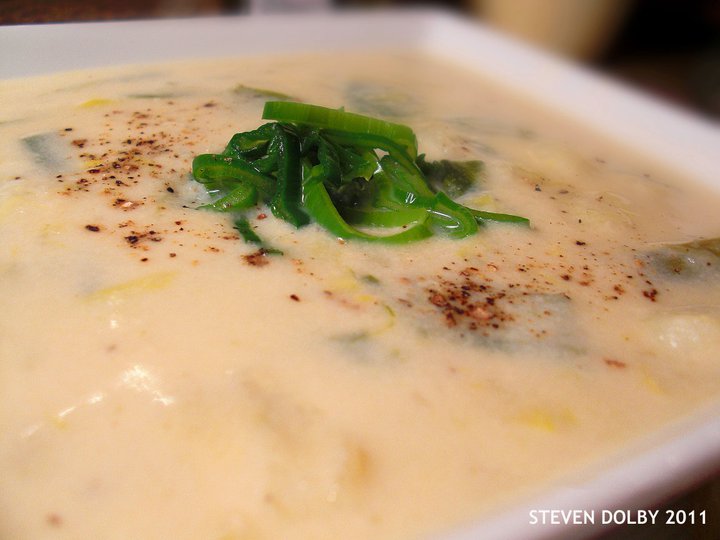 Ingredients
Potatoes

1 Pound

, peeled

Leeks

1 Pound

Heavy cream

6 Tablespoon

Unsalted butter

2 Tablespoon

Parsley

1⁄4 Cup (4 tbs)

, finely chopped

Salt

To Taste

White peppercorns

To Taste
Nutrition Facts
Serving size
Calories 290 Calories from Fat 131
% Daily Value*
Total Fat 15 g22.9%
Saturated Fat 9.1 g45.6%
Trans Fat 0 g
Cholesterol 47 mg
Sodium 137.9 mg5.7%
Total Carbohydrates 38 g12.7%
Dietary Fiber 4.7 g18.9%
Sugars 5.4 g
Protein 5 g9.3%
Vitamin A 54.5% Vitamin C 68.5%
Calcium 10.3% Iron 19.7%
*Based on a 2000 Calorie diet
Directions
GETTING READY
1 Cut the potatoes into small pieces.
2 Slice the leeks into thin rings, using both green and white parts but remove and discard the outer layer and the tougher, darker green leaves.

MAKING
3 In a large saucepan, put the vegetables with 6 1/4-6 1/2 cups water and 1 1/2tsp salt.
4 Bring slowly to a boil, and simmer, partially covered to allow the steam to escape, for 50 minutes.
5 Using a hand held electric beater, beat until smooth and creamy or put through a blender.
6 Return the soup to the pan and heat.
7 Remove from the heat and stir in the cream.
8 Stir in the butter, adding a small piece at a time, followed by the parsley.
9 Taste and correct the seasoning.

SERVING
10 Serve hot ladled into soup bowls.