»

Recipes

»

Soup

»

Simple Cream Of Carrot Soup
Simple Cream Of Carrot Soup Recipe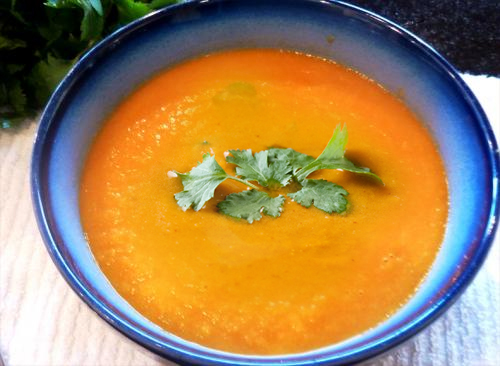 Ingredients
Onion

1 Large

, sliced

Canola oil

1 Teaspoon

Stock

2 Cup (32 tbs)

Sliced carrots

4 Ounce

Cubed potato

1 Large

Dried thyme

1⁄2 Teaspoon

Skim milk

3⁄4 Cup (12 tbs)
Nutrition Facts
Serving size
Calories 148 Calories from Fat 22
% Daily Value*
Total Fat 3 g3.9%
Saturated Fat 0.46 g2.3%
Trans Fat 0 g
Cholesterol 2 mg
Sodium 231.9 mg9.7%
Total Carbohydrates 26 g8.8%
Dietary Fiber 4 g16%
Sugars 7.5 g
Protein 7 g13.6%
Vitamin A 95.5% Vitamin C 38.4%
Calcium 10.5% Iron 9.1%
*Based on a 2000 Calorie diet
Directions
MAKING
1) In a 2-quart saucepan, heat oil and saute the onions for about 5 minutes till they turn soft and transluscent.
2) Mix in the stock, carrots, potatoes and thyme.
3) Turn down the flame and cook the mixture on simmer for about 25 minutes.
4) Pour the mixture into a blender after it has cooled down slightly.
5) Puree the soup. Slowly stir in the milk till the soup reaches the right consistency.

SERVING
6) Serve the Cream of Carrot Soup hot, garnished with chopped coriander or parsley leaves.
is that really only 4 oz carrots for 4 people ?
Posted on:
24 February 2014 - 12:45pm
Hi Anjack, its actually 4 carrots and not 4 oz, looks like a typing error! apologies for inconvenience caused.
Posted on:
8 March 2014 - 5:25am