»

Recipes

»

Broccoli

»

Cream Of Broccoli
Cream of Broccoli Recipe
Cream of Broccoli is one of those cream soups that almost everybody love to have. It is easy to make. It is rich delicious and very good for you.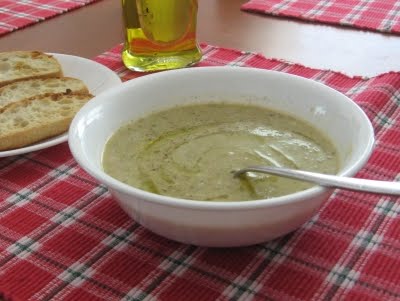 Summary
Preparation Time
10 Min
Cooking Time
15 Min
Ready In
25 Min
Difficulty Level
Easy
Health Index
Healthy++
Servings
4
Ingredients
Butter

2 Tablespoon

Onion

1 Medium

, finely chopped

Broccoli florets

2 Cup (16 tbs)

, chopped

Vegetable stock

3 Cup (16 tbs)

Plain flour

2 Tablespoon

, sifted

Milk

2 Cup (16 tbs)

Salt

1 To taste

White pepper powder

1 To taste

Double cream

4 Tablespoon
Directions
MAKING
1) In a saucepan, melt 1 tablespoon of butter, and sauté the onion until translucent.
2) Stir in the broccoli until glossy.
3) Pour in the stock and allow to boil fro about 4 minutes or until broccoli is tender.
4) Remove from the heat and leave it to cool.
5) In a blender, place the broccoli mixture and process until pureed.

FINALIZING
6) In a non-stick pan, melt the reserved butter over low heat.
7) Add the flour, and heat for 1minute, stirring continuously to prevent the flour from browning.
8) Pour in the milk and bring to a boil.
9) Simmer for 5 minutes and season with salt and pepper.
10) Add pureed broccoli and cook until heated through.

SERVING
11) Serve hot garnished with cream.