»

Recipes

»

Chicken

»

Cream Chicken And Dumplings
Cream Chicken And Dumplings Recipe
Cream Chicken And Dumplings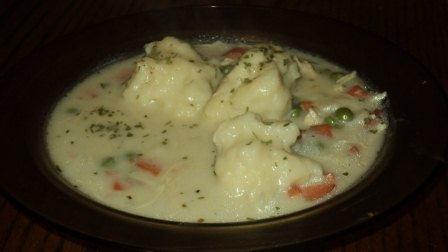 Ingredients
Chicken

4 Pound

Onion

1 Large

Paprika

2 Tablespoon

Light cream

1 1⁄2 Cup (24 tbs)

Flour

2 Cup (32 tbs)

Curry powder

1⁄4 Teaspoon

(Optional)

Eggs

3

Water/Milk

1 1⁄3 Cup (21.33 tbs)

(Approximately)

Salt

To Taste

Pepper

To Taste
Nutrition Facts
Serving size
Calories 961 Calories from Fat 497
% Daily Value*
Total Fat 56 g85.6%
Saturated Fat 22.1 g110.7%
Trans Fat 0 g
Cholesterol 374.9 mg
Sodium 322.8 mg13.4%
Total Carbohydrates 42 g13.8%
Dietary Fiber 4 g15.8%
Sugars 3.1 g
Protein 71 g142.8%
Vitamin A 73.4% Vitamin C 13%
Calcium 11.6% Iron 34.2%
*Based on a 2000 Calorie diet
Directions
In a Dutch oven pan saute onions; add paprika to onions; saute a few minutes longer.
Add chicken pieces (that have been seasoned).
Fry and stir occasionally on medium heat for 10-15 minutes.
Add about 4 cups water to chicken or enough to cover chicken.
Stew chicken for another 10 minutes.
Add the dumplings, dropping into the stew, cover and simmer a few additional minutes.
Then add cream sauce, simmer for about 5 minutes.