»

Recipes

»

Seafood

»

Crayfish
Crayfish Recipe
This crayfish recipe is probably one of the most simplest of the recipes that can be prepared. Enjoy it with main course of your choice. Serve it with rice or noodles, salad and other seafood dishes and enjoy.
Crayfish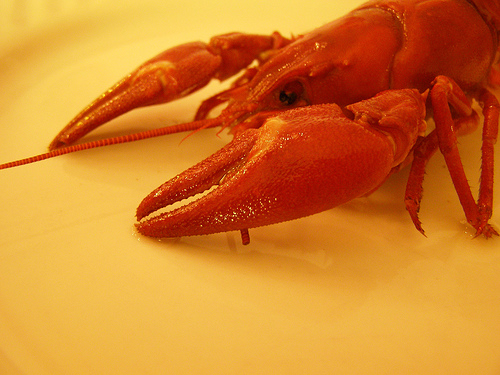 Ingredients
Bread slices easier if stored overnight.

Onion

1

Celery-2 stalks, minced

Margarine

2 Tablespoon

Crayfish tails-1 pound, peeled

Cornstarch

1/2 Teaspoon

Salt

To Taste

Pepper

1 To taste

Green onions

2 Tablespoon

, chopped

Pastry for 2-crust Pie
Directions
MAKING
1)In a pan, melt margarine saute onion and celery until tender.
2)Add crayfish tails and 1/2 cup water, cover the pan and simmer until crayfish tails are tender.
3)In a small bowl, mix cornstarch with 1/4 cup water and add it to crayfish mixture.
4)Let it simmer until thickened. Keep stirring.
5)Add seasonings and green onions. Remove from heat and cool.
6)Take 6 individual pie pans and line them with 2/3 of the pastry.
7)Divide remaining pastry into 6 parts and roll thin for top crusts.
8)Pour filling into pastry-lined pans and cover.
9)Seal edges and slash top crusts.
10)Bake at 425 degrees for 20 minutes or until lightly browned.

SERVING
11)Serve the crayfish hot.