»

Recipes

»

American

»

Cajun

»

Etouffee

»

Classic Crawfish Etouffee
Classic Crawfish Etouffee Recipe
Crawfish Etouffee has a unique taste. Crawfish Etouffee gets its taste from crawfish mixed with hot sauce and red pepper. Crawfish Etouffee is served with rice.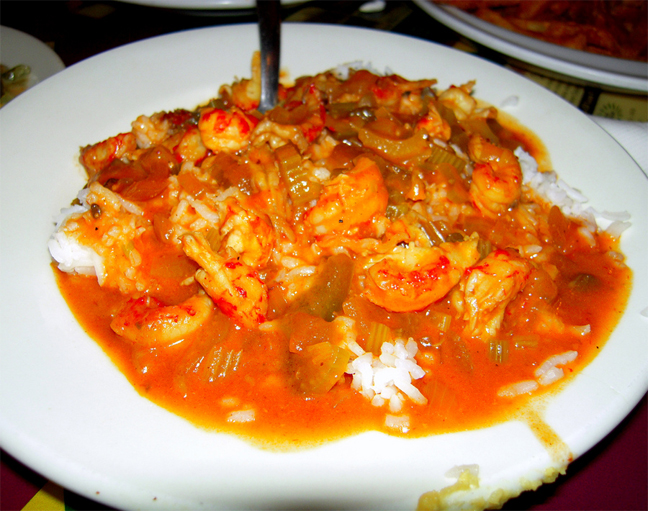 Ingredients
Crawfish tails with fat

2 Pound

Hot sauce

2 Teaspoon

Pepper red

1⁄4 Teaspoon

Vegetable oil

1⁄4 Cup (4 tbs)

All purpose flour

1⁄4 Cup (4 tbs)

Celery stalks

2

, chopped

Onions

2 Large

, chopped

Green peppers

2 Large

, chopped

Chopped green onions

1⁄2 Cup (8 tbs)

Water

1⁄4 Cup (4 tbs)

Salt

1⁄2 Teaspoon

Black pepper

1⁄4 Teaspoon

Hot cooked rice

1 Cup (16 tbs)
Nutrition Facts
Serving size: Complete recipe
Calories 1983 Calories from Fat 597
% Daily Value*
Total Fat 67 g103.7%
Saturated Fat 7.8 g39.2%
Trans Fat 0 g
Cholesterol 1274.2 mg
Sodium 3239.1 mg135%
Total Carbohydrates 164 g54.8%
Dietary Fiber 23.2 g92.8%
Sugars 39 g
Protein 183 g366.8%
Vitamin A 115.4% Vitamin C 642.6%
Calcium 28.8% Iron 51.7%
*Based on a 2000 Calorie diet
Directions
Remove package of fat from crawfish tails, and set aside.
Sprinkle crawfish with hot sauce and 1/4 teaspoon red pepper; set aside.
Combine vegetable oil and flour in a 4 quart Dutch oven.
Cook mixture over medium heat, stirring constantly, until roux is chocolate colored
Stir in celery and next 3 ingredients; cook until vegetables are tender, stirring often.
Add crawfish tails and water; cook over low heat, uncovered, 15 minutes, stirring occasionally.
Stir in 2 tablespoons crawfish fat salt, and pepper; simmer 5 minutes.
Serve over rice.
Image Courtesy :
http://www.flickr.com/photos/sql_samson/3792952252/