»

Recipes

»

Salad
Cranberry Salad Recipe
This Cranberry Salad recipe is my favorite and also liked by my family. This salad is not only tasty but also very nutritious. So if you have good taste and also care about your health , you must try this Cranberry Salad recipe.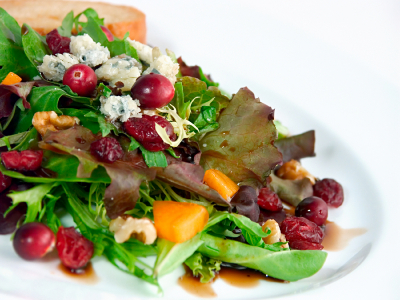 Ingredients
Cranberry sauce

1⁄2 Can (5 oz)

(jellied cranberry)

Jell-o

3 Ounce

(1 small package, lemon flavored)

Jello

3 Ounce

(1 small package)

Boiling water

1 Cup (16 tbs)

, hot

Cold water

1⁄2 Cup (8 tbs)

Bananas

2

, sliced

Chopped walnuts

1⁄4 Cup (4 tbs)
Nutrition Facts
Serving size
Calories 732 Calories from Fat 183
% Daily Value*
Total Fat 21 g31.5%
Saturated Fat 1.7 g8.6%
Trans Fat 0 g
Cholesterol 0 mg
Sodium 343.7 mg14.3%
Total Carbohydrates 131 g43.7%
Dietary Fiber 7.2 g28.9%
Sugars 106.6 g
Protein 15 g29.2%
Vitamin A 1.5% Vitamin C 17.4%
Calcium 3.3% Iron 7.6%
*Based on a 2000 Calorie diet
Directions
Step1-Dissolve Jell-O in 1 cup of hot water.
Step2-Put jellied cranberry in a sieve, food mill or something similar; press the cranberry through to liquify.
Step3-Stir in the Jell-O and add 1/2 cup of cold water. When it is partially set, add bananas and nuts.