»

Recipes

»

Muffin

»

Cranberry Orange Muffin
Cranberry Orange Muffin Recipe
My sister likes this Cranberry Orange Muffin recipe. This recipe was given to her by one of her friends. Whenever there is a party in our house, she prepares this muffin. All the guests like this muffin very much and thank her for preparing it. Which makes my sister very happy. Have a happy moment must try this Cranberry Orange Muffin recipe.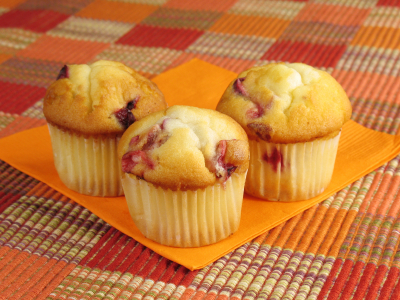 Ingredients
Butter

8 Tablespoon

, cooled

Cranberry orange

2 Cup (32 tbs)

Flour

5 Cup (80 tbs)

Sugar

1 1⁄2 Cup (24 tbs)

Baking powder

8 Teaspoon

Salt

1 Teaspoon

Milk

2 Cup (32 tbs)

Eggs

2

, beaten
Nutrition Facts
Serving size
Calories 698 Calories from Fat 142
% Daily Value*
Total Fat 16 g24.7%
Saturated Fat 9.3 g46.4%
Trans Fat 0 g
Cholesterol 90.8 mg
Sodium 699.4 mg29.1%
Total Carbohydrates 129 g43%
Dietary Fiber 2.1 g8.5%
Sugars 40.8 g
Protein 12 g23.5%
Vitamin A 10.7% Vitamin C 18%
Calcium 46.1% Iron 25.3%
*Based on a 2000 Calorie diet
Directions
Stage1-Preheat oven to 375 degrees fareinhite.
Stage2-Combine flour, sugar, baking powder, salt in a bowl.
Stage3-Pour in milk and stir.
Stage4-Add egg and 8 tablespoons melted butter.
Stage5- Add cranberry-orange relish; mix well.
Stage6-Fill muffin tins 2/3 full.
Stage7-Bake 40 minutes.

Try these with some fresh orange zest mixed into the batter too.
Posted on:
19 February 2008 - 2:10pm