»

Recipes

»

Cupcake

»

Cranberry-Orange Cupcakes
Cranberry-Orange Cupcakes Recipe
Cranberry orange cupcake is a wonderful taste delight. It has sweet-tart taste which tickles your taste buds and gives a different experience altogether. Cranberry orange cupcakes can be enjoyed anytime.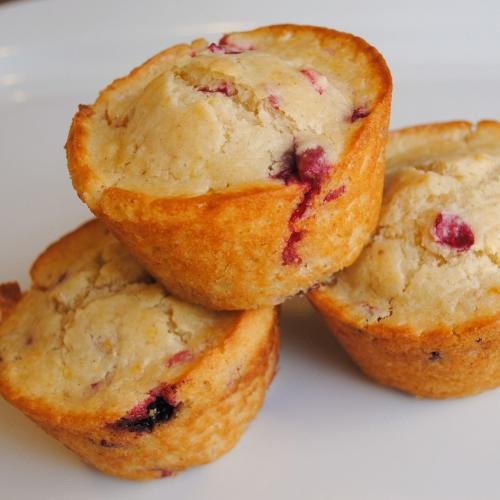 Ingredients
Allspice

1⁄4 Teaspoon

Eggs

2

Orange flavoring

1 1⁄4 Teaspoon

Milk

2⁄3 Cup (10.67 tbs)

Whole cranberry sauce

1⁄2 Cup (8 tbs)

Butter/Margarine

1⁄3 Cup (5.33 tbs)

, melted

Biscuit mix

2 Cup (32 tbs)

Sugar

6 Tablespoon
Nutrition Facts
Serving size
Calories 266 Calories from Fat 85
% Daily Value*
Total Fat 10 g14.8%
Saturated Fat 5.6 g28%
Trans Fat 0 g
Cholesterol 74.9 mg
Sodium 95.3 mg4%
Total Carbohydrates 44 g14.6%
Dietary Fiber 1.5 g6%
Sugars 18.6 g
Protein 2 g4.6%
Vitamin A 6.3% Vitamin C 0.1%
Calcium 10.8% Iron 8.6%
*Based on a 2000 Calorie diet
Directions
MAKING
1)In a mixing bowl, add biscuit mix, sugar and allspice.
2)In another bowl, beat eggs lightly and add orange flavoring and milk.
3)Add to dry ingredients and mix lightly.
4)Add cranberry sauce and butter and mix.
5)Take greased muffin tins and pour the batter.
6)Bake at 400 degrees for 18 minutes or until done.

SERVING
7)Serve the cranberry-orange cupcakes to kids at snacktime.