»

Recipes

»

Cake

»

Cranberry Nut Cake
Cranberry Nut Cake Recipe
Cranberry nut cake makes a delicious dessert. The frosting makes it very tasty. This cake can be baked for the occasions like Christmas and Thanksgiving. Specially, Thanksgiving, when cranberries are a must. Make this cake and serve as a dessert or snack.
Cranberry Nut Cake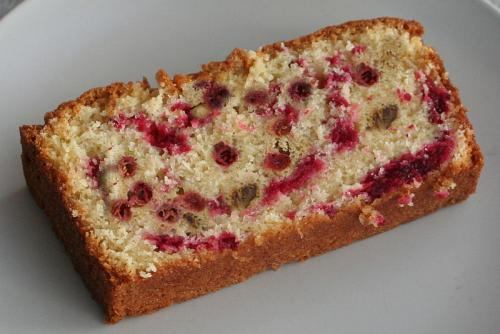 Ingredients
Shortening

1 Cup (16 tbs)

Sugar

1 1/2 Cup (16 tbs)

Eggs

4 Small

All-purpose flour-3 cups, sifted

Baking powder

2 1/2 Teaspoon

Salt

1/2 Teaspoon

Milk

1/2 Cup (16 tbs)

Pecans

1 Cup (16 tbs)

, chopped

Cranberries

2 1/2 Cup (16 tbs)

, chopped

Water

1/4 Cup (16 tbs)

Lemon juice

1 Tablespoon

Soft butter

1/4 Cup (16 tbs)

Confectioner's sugar

4 Cup (16 tbs)

, sifted
Directions
MAKING
1)In a bowl, beat shortening and sugar.
2)Add eggs, one at a time and beat.
3)In a bowl, sift flour, baking powder and salt together.
4)Mix it with creamed mixture alternately with milk.
5)Add pecans and 2 cups cranberries.
6)Take a greased and floured 10-inch tube pan and pour the batter.
7)Bake at 350 degrees for 1 hour and 20 minutes.
8)Cool cake in pan for 10 minutes. Place on rack and cool completely.
9)In a saucepan, add remaining cranberries and water.
10)Cook for 5 minutes or until cranberries pop. Stir constantly.
11)Cool and add lemon juice.
12)In a bowl, beat butter, adding confectioners' sugar alternately with cranberry mixture.
13)Frost the cake with this mixture.

SERVING
14)Slice and serve the cake.