»

Recipes
Cranberry Jubilee Recipe
This Cranberry Jubilee will make your taste buds crave for more! It is the answer when you look for a tasty Dessert. Try this recipe for Cranberry Jubilee and comeback and let me know how you enjoyed this Cranberry Jubilee recipe.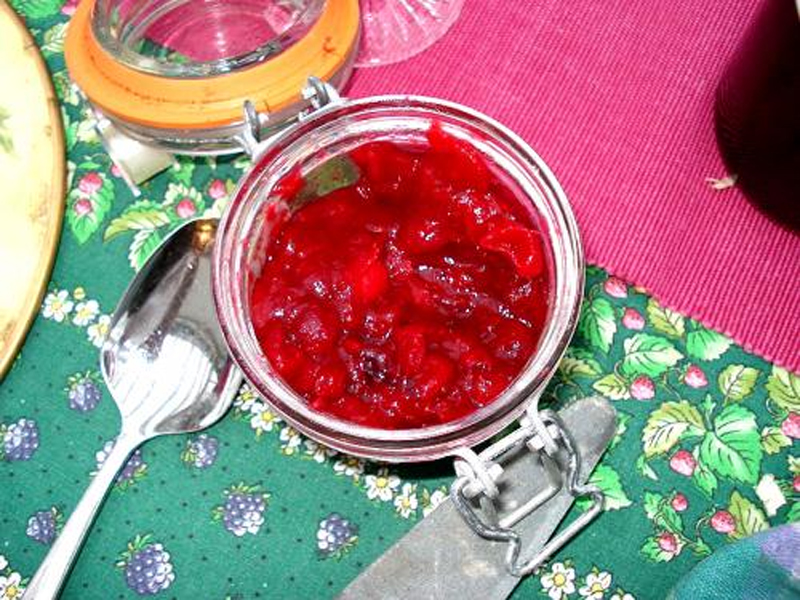 Ingredients
Sugar

1⁄4 Cup (4 tbs)

Cornstarch

2 Teaspoon

Ground cinnamon

1⁄2 Teaspoon

Ground nutmeg

1⁄4 Teaspoon

Ground cloves

1 Dash

Whole cranberry sauce

16 Ounce

(1 Can)

Water

2 Tablespoon

Brandy

1⁄4 Cup (4 tbs)

Vanilla ice cream

1 Pint
Nutrition Facts
Serving size
Calories 991 Calories from Fat 240
% Daily Value*
Total Fat 27 g41%
Saturated Fat 16.5 g82.4%
Trans Fat 0 g
Cholesterol 105.6 mg35.2%
Sodium 238 mg9.9%
Total Carbohydrates 166 g55.2%
Dietary Fiber 5.6 g22.3%
Sugars 127.2 g
Protein 9 g17%
Vitamin A 20.3% Vitamin C 2.7%
Calcium 32.2% Iron 2.1%
*Based on a 2000 Calorie diet
Directions
In saucepan combine sugar, cornstarch, ground cinnamon, ground nutmeg, and ground cloves.
Blend in cranberry sauce and water.
Cook, stirring constantly, over medium heat till thickened and bubbly.
Stir in 1 tablespoon of the brandy.
Turn into chafing dish or heatproof bowl.
Heat remaining brandy over low heat just till warm; flame and pour over cranberry mixture.
Blend brandy into sauce; serve immediately over vanilla ice cream.
Makes 2 cups sauce.