»

Recipes

»

Salad
Cranberry Salad Recipe
Cranberry salad is not as simple as it may sound but surely is interesting to eat. It has cranberry sauce, apples, nuts and gelatin which makes it much more attractive. Enjoy this cranberry salad recipe.
Cranberry Apple Jello Salad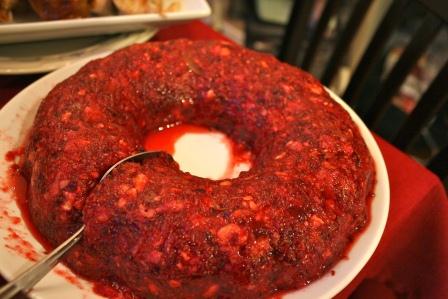 Ingredients
Unflavored gelatin

1 Tablespoon

Sugar

2 Tablespoon

Salt

1⁄4 Teaspoon

Mayonnaise

1⁄2 Cup (8 tbs)

Lemon juice

1 Tablespoon

Lemon rind

1 Teaspoon

, grated

Canned cranberry sauce

1 Pound

Apples

2

, diced (Peeled)

Walnuts

1⁄2 Cup (8 tbs)

, chopped
Nutrition Facts
Serving size
Calories 532 Calories from Fat 265
% Daily Value*
Total Fat 30 g46.3%
Saturated Fat 2.8 g13.8%
Trans Fat 0 g
Cholesterol 19.6 mg
Sodium 290.1 mg12.1%
Total Carbohydrates 64 g21.4%
Dietary Fiber 3.9 g15.7%
Sugars 58.7 g
Protein 6 g11.1%
Vitamin A 1.8% Vitamin C 15.4%
Calcium 2.5% Iron 4.2%
*Based on a 2000 Calorie diet
Directions
MAKING
1)In a saucepan, add gelatin, sugar and salt along with 1 cup water.
2)Cook until gelatin is dissolved. Stir constantly. Remove from heat.
3)Add mayonnaise, lemon juice and lemon rind and beta with rotary beater.
4)Take a refrigerator tray and pour the mixture.
5)Freeze for 10 to 15 minutes or until mixture is firm about 1 inch from edge.
6)Take a mixing bowl and put the mixture into it.
7)Beat until fluffy and then, add cranberry sauce, apples and walnuts.
8)Take 4-cup mold and pour the mixture.
9)Chill until firm.

SERVING
10)Serve cranberry salad chilled.