»

Recipes

»

Salad

»

Cranberry-Apple Salad
Cranberry-Apple Salad Recipe
Cranberry apple salad is a crunchy and tasty salad that can be served with any of the turkey dishes prepared for Thanksgiving. This salad is very refreshing and makes meal much more enjoyable.
Cranberry Apple Jello Salad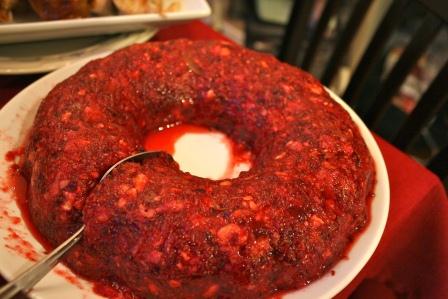 Summary
Preparation Time
10 Min
Cooking Time
30 Min
Ready In
40 Min
Difficulty Level
Easy
Health Index
Average
Servings
12
Ingredients
Sugar

1 Cup (16 tbs)

Cranberries

1/2 pound

Apple Juice

1/2 Cup (16 tbs)

Wild cherry gelatin-1 package

Marshmallows

15

Apple

1

Oranges

1 1/2

Orange peel

1 Tablespoon

, finely chopped

Nuts-1, 14-ounces, Jar
Directions
MAKING
1)In a saucepan, add sugar, 112 cup water and cranberries. Bring to a boil.
2)Cook until cranberry skins pop.
3)Add apple juice and return to a boil.
4)Add gelatin in hot mixture and dissolve.
5)Add marshmallows and stir until marshmallows melt.
6)Chill until thickened.
7)Add apple, oranges and orange peel.
8)Take a pan or mold and put the mixture.
9)Sprinkle nuts and chill until firm.

SERVING
10)Serve the cranberry apple salad chilled.