»

Recipes

»

Berries

»

Cranberry And Orange Relish
Cranberry And Orange Relish Recipe
Cranberry And Orange Relish is a delightfully easy to make fruit relish. The flavors of this relish is sure to get you hooked to it! Try the Cranberry And Orange Relish!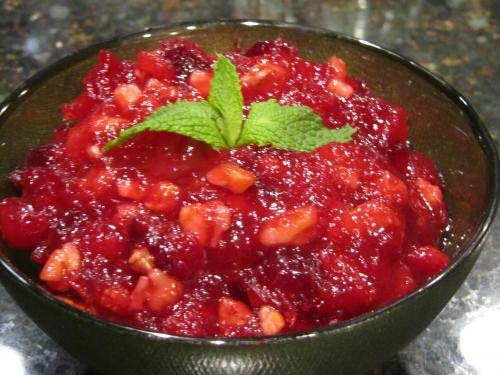 Ingredients
Cranberries

2 Cup (32 tbs)

Sugar

1 Cup (16 tbs)

Orange

1

, quartered

Pecans

1 Cup (16 tbs)

, seeded

Cointreau

1⁄4 Cup (4 tbs)

Lemon

1⁄2

, seeded
Nutrition Facts
Serving size: Complete recipe
Calories 2092 Calories from Fat 791
% Daily Value*
Total Fat 94 g145.4%
Saturated Fat 8.2 g40.9%
Trans Fat 0 g
Cholesterol 0 mg
Sodium 11.1 mg0.5%
Total Carbohydrates 301 g100.3%
Dietary Fiber 27.8 g111.1%
Sugars 262.5 g
Protein 14 g28.6%
Vitamin A 11.4% Vitamin C 207.6%
Calcium 19.7% Iron 23.6%
*Based on a 2000 Calorie diet
Directions
Chop the cranberries, orange, and lemon in a food processor.
Add the sugar, pecans, and Cointreau.
Process briefly.
Cover and let stand at room temperature for 12 hours.
Refrigerate overnight.