»

Recipes

»

Cranberry Sauce With Orange, Ginger, Pineapple, And Pecans
Cranberry Sauce with Orange, Ginger, Pineapple, and Pecans Recipe
Every year I tweak my holiday cranberry sauce just a bit, but this combination (tart berries with sweet oranges, ginger, pineapple chunks, and meaty pecans) is a real favorite. Serve with holiday poultry, on sandwiches, with a cheese platter, or serve it as a dessert sauce for butter cookies, pound cake, or pies.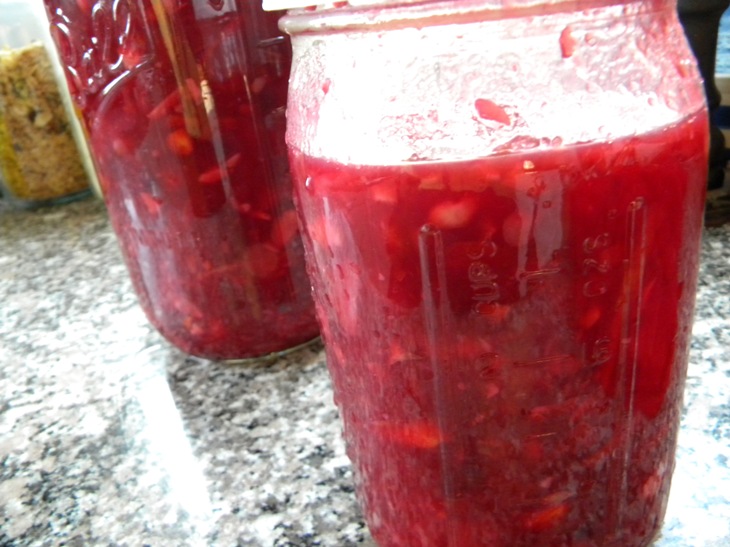 Ingredients
Sugar

1 Cup (16 tbs)

Water

2 Cup (32 tbs)

Maple syrup

1⁄4 Cup (4 tbs)

Fresh cranberries

1 Pound

Fresh orange juice

1⁄4 Cup (4 tbs)

Julienned orange rind

1⁄4 Cup (4 tbs)

Grated orange zest

1 Tablespoon

Finely chopped fresh ginger

1 Tablespoon

Fresh pineapple

1 Cup (16 tbs)

, cut into small pieces

Chopped candied ginger/Crystallized ginger

1 Tablespoon

(coarse)

Pecans/Your favorite nut

1 Cup (16 tbs)

, coarsely chopped
Nutrition Facts
Serving size: Complete recipe
Calories 2306 Calories from Fat 793
% Daily Value*
Total Fat 95 g145.7%
Saturated Fat 8.2 g40.8%
Trans Fat 0 g
Cholesterol 0 mg
Sodium 22.2 mg0.9%
Total Carbohydrates 383 g127.6%
Dietary Fiber 40.4 g161.4%
Sugars 303.6 g
Protein 16 g31.2%
Vitamin A 12.7% Vitamin C 342.1%
Calcium 27.2% Iron 35.3%
*Based on a 2000 Calorie diet
Directions
Place the sugar and water in a large saucepan and bring to a boil over high heat. Reduce the heat to low and cook 10 to 15 minutes, or until the sugar syrup beings to thicken slightly and turn a pale amber color. Add the maple syrup and the cranberries and cook, stirring occasionally, until the cranberries begin to pop. Add the orange juice, orange rind, and orange zest and cook another 5 to 10 minutes, or until the sauce beings to thicken slightly.
Add the fresh and crystallized ginger and pineapple and cook 2 minutes. The sauce should be full of flavor and slightly thickened. (If the sauce still seems thin — remember, it will thicken as it chills — remove the cranberries and flavorings with a slotted spoon and place in a bowl.
Boil the liquid in the pot over a moderate-high heat until it is thickened slightly, about 10 additional minutes, if needed. Place the cranberries back in the slightly thickened sauce.)
Remove the sauce from the heat and add the nuts, stirring well. Let cool completely. Place in a clean glass jar and cover; refrigerate for up 10 days, or freeze for up to 6 months.
Makes about 6 cups
Tip
You'll need 2 to 3 large oranges. First, use one orange to remove the zest (the outer
peel without the bitter white pith) by slicing it off with a small sharp knife or a wide vegetable peeler. Use another orange to grate the rind and then squeeze both oranges for their juice.
To learn more about Kathy visit
KathyGunst.com
or connect with her on
Facebook
.
To purchase the book visit,
secure.downeast.com
.