»

Recipes

»

Cranberry-Orange Relish
Cranberry-Orange Relish Recipe
Cranberry-Orange Relish has an exquisite taste. The unique flavor of the relish has the potential to enslave anyone. Try the Cranberry-Orange Relish for yourself to understand what I am talking about.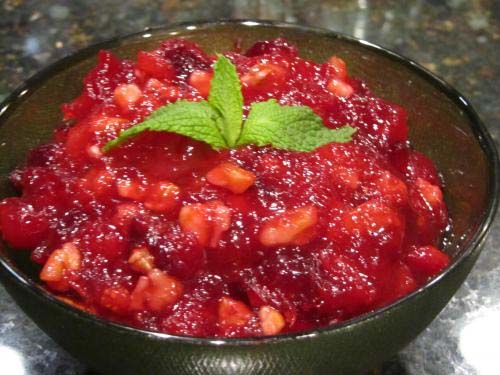 Ingredients
Sugar

1 Cup (16 tbs)

Orange

1⁄2 Large

, unpeeled (May Use 1 Small)

Cranberries

2 Cup (32 tbs)

(Raw / Thawed Frozen)
Nutrition Facts
Serving size
Calories 461 Calories from Fat 2
% Daily Value*
Total Fat 0.25 g0.38%
Saturated Fat 0.02 g0.12%
Trans Fat 0 g
Cholesterol 0 mg
Sodium 2.2 mg0.1%
Total Carbohydrates 119 g39.7%
Dietary Fiber 6.3 g25%
Sugars 108.9 g
Protein 0.78 g1.6%
Vitamin A 3.6% Vitamin C 61.9%
Calcium 3.1% Iron 1.8%
*Based on a 2000 Calorie diet
Directions
Put orange and cranberries through food chopper.
Mix in sugar and let stand for several hours.
Store in a covered jar in refrigerator.