»

Recipes

»

Bread

»

Holiday Cranberry Nut Bread
Holiday Cranberry Nut Bread Recipe
This tasty Cranberry Nut Bread is a wonderful , wellflavored bread that I cant get enough off! I served it at home last week and everyone loved it! You simply have to try this sweet Cranberry Nut Bread!
Cranberry Nut Bread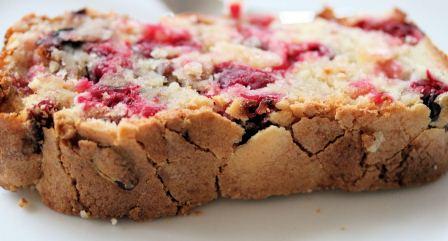 Ingredients
All purpose flour

3 Cup (48 tbs)

Sugar

1 1⁄4 Cup (20 tbs)

Baking powder

1 Tablespoon

Baking soda

1 Teaspoon

Chopped cranberries

2 Cup (32 tbs)

(Fresh / Frozen)

Walnuts

1 1⁄2 Cup (24 tbs)

, chopped

Grated orange peel

2 Tablespoon

Eggs

3

Milk

1 1⁄2 Cup (24 tbs)

Salad oil

1⁄3 Cup (5.33 tbs)
Nutrition Facts
Serving size: Complete recipe
Calories 4519 Calories from Fat 1744
% Daily Value*
Total Fat 202 g311.1%
Saturated Fat 24.2 g121.1%
Trans Fat 1.3 g
Cholesterol 668.3 mg
Sodium 2913 mg121.4%
Total Carbohydrates 611 g203.7%
Dietary Fiber 32.6 g130.3%
Sugars 281.8 g
Protein 93 g185.2%
Vitamin A 27% Vitamin C 115.6%
Calcium 183.7% Iron 150.4%
*Based on a 2000 Calorie diet
Directions
1. Preheat oven to 350°F. Grease t :wo 8 1/2" by 4 1/2 loaf pans.
2. In large bowl, mix flour, sugar, baking powder, and baking soda. Stir in cranberries, walnuts, and orange peel. In small bowl, beat eggs, milk, and salad oil; stir into flour mixture just until moistened. Spoon batter into pans.
3. Bake loaves 60 to 65 minutes until toothpick inserted in center comes out clean. Cool in pans on wire racks 10 minutes; remove from pans and finish cooling on wire racks.