»

Recipes

»

Pie

»

Cranberry Cream Pie
Cranberry Cream Pie Recipe
Cranberry Cream Pie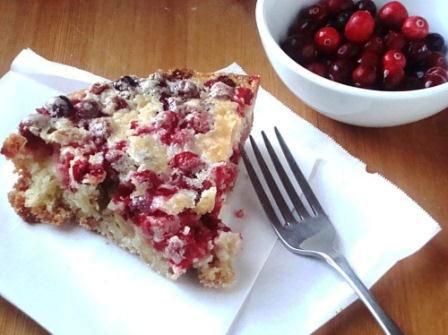 Ingredients
Sugar

8 Tablespoon

Cornstarch

1 Tablespoon

Cranberries

2 Cup (32 tbs)

(Use Fresh Or Frozen)

Water

5 Tablespoon

Unflavored gelatin

1⁄4 Ounce

(Use 1 Envelope)

Water

10 Teaspoon

Commercial eggnog

450 Milliliter

(Use 1 Carton)

Nutmeg

1 Pinch

Rum

5 Teaspoon

Whipping cream

125 Milliliter

, whipped

Baked 9 inch pie shell

1

(Prebaked)
Nutrition Facts
Serving size: Complete recipe
Calories 2802 Calories from Fat 1208
% Daily Value*
Total Fat 135 g207.7%
Saturated Fat 71.2 g355.8%
Trans Fat 0 g
Cholesterol 444 mg
Sodium 1252.3 mg52.2%
Total Carbohydrates 347 g115.7%
Dietary Fiber 13.2 g52.9%
Sugars 174 g
Protein 31 g62.1%
Vitamin A 17.1% Vitamin C 60.1%
Calcium 70.5% Iron 22.1%
*Based on a 2000 Calorie diet
Directions
GETTING READY
1) In a small saucepan, add sugar, cornstarch, cranberries and five teaspoons of water. Cook for about 5 minutes on medium flame or until the cranberries start popping.
2) Allow the mixture to cool down to room temperature before pouring into a pre-baked pie shell.

MAKING
3) In a small glass bowl, add gelatin into 10 teaspoons of water and set aside for 5 minutes. Place the bowl over a larger container filled with hot water. Stir continuosly till the gelatin dissolves.
4) Add the gelatin into another bowl containing a mixture of eggnog, nutmeg and rum. Place the bowl in the refrigerator until chilled and slightly thickened.
5) Fold in the whipped cream gently into the eggnog mixture and place back in the fridge till chilled.
6) Pour the chilled eggnog mix into the pie shell, over the raspberries.
7) Place the Cranberry Cream Pie in the refrigerator for at least 2 hours.

SERVING
8) Garnish the Cranberry Cream Pie with whipped cream topped with whole cranberries.

TIPS
Never freeze the Cranberry Cream Pie, only chill.