»

Recipes

»

Quiche

»

Crabmeat Vegetable Quiche
Crabmeat Vegetable Quiche Recipe
Crabmeat Vegetable Quiche is something you gotta try out. Whipped cream, cheese and green pepper make the crabmeat taste rich and juicy. Just check out the recipe of the rich and flavorsome Crabmeat Vegetable Quiche listed here.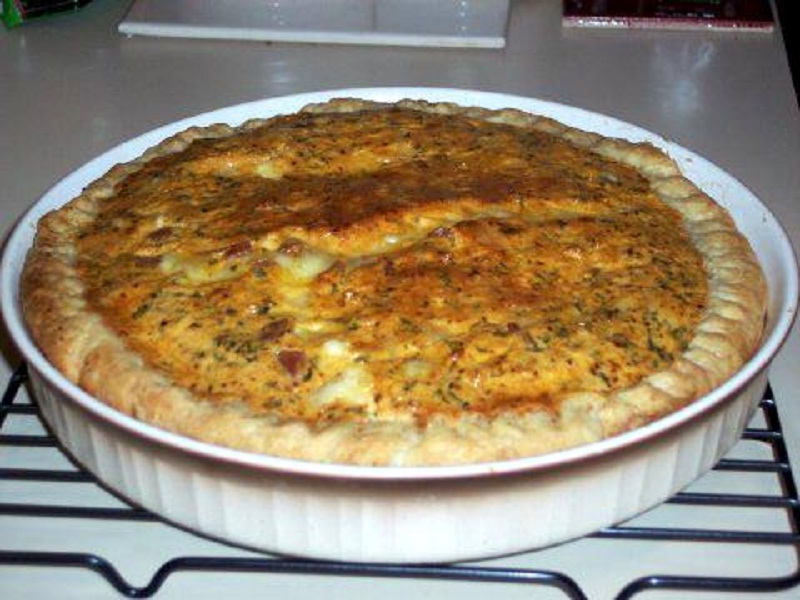 Ingredients
Frozen pie shell

1

(Deepest That You Can Find)

Eggs

3

Whipped cream

1 1⁄2 Cup (24 tbs)

Grated cheese

1 1⁄2 Cup (24 tbs)

(Swiss / Cheddar)

Bacon

1⁄2 Pound

, diced

Diced zucchini

1⁄2 Cup (8 tbs)

Diced green pepper

1⁄2 Cup (8 tbs)

Diced onion

1⁄4 Cup (4 tbs)

Fresh mushrooms

1⁄2 Cup (8 tbs)

, sliced

Canned crabmeat

4 Ounce

, drained (1 Small Can)

Salt

1 Dash

Nutmeg

1 Dash

Red pepper

1 Dash

Sugar

1 Dash

Pepper

1 Dash
Nutrition Facts
Serving size: Complete recipe
Calories 3789 Calories from Fat 2463
% Daily Value*
Total Fat 276 g425.1%
Saturated Fat 149.1 g745.7%
Trans Fat 0 g
Cholesterol 1456.3 mg485.4%
Sodium 5981.7 mg249.2%
Total Carbohydrates 158 g52.6%
Dietary Fiber 5.9 g23.6%
Sugars 28.3 g
Protein 133 g266.1%
Vitamin A 38.9% Vitamin C 115.3%
Calcium 240.6% Iron 41.9%
*Based on a 2000 Calorie diet
Directions
Preheat oven to 425F°.
Read pie shell instructions.
Fry bacon.
Save enough fat to saute all the vegetables.
Drain bacon as thoroughly as possible.
Saute zucchini, pepper, onions, and mushrooms together.
Drain vegetables thoroughly.
Use bacon as bottom layer of pie shell, followed by vegetables, cheese, and crabmeat.
In bowl mix whipped cream, eggs and spices.
Whip with electric beater until frothy.
Pour over rest of ingredients in pie shell.
Bake at 425 F° for 15 minutes.
Lower to 350F°, takes about 45 minutes.
Is done when toothpick comes out clean.
Image Courtesy :
http://en.wikipedia.org/wiki/File:Quiche_Lorraine.jpg