»

Recipes

»

Crab

»

Crab Stuffed Shrimp
Crab Stuffed Shrimp Recipe
Crab Stuffed Shrimp is an easy to prepare recipe which you will simply love. I bet, you will surely get a huge fan following for this one!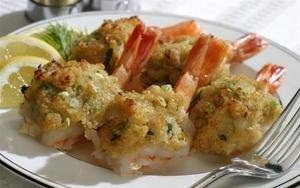 Ingredients
Shrimp

8 Large

Mayonnaise

2 Tablespoon

Sour cream

1 Tablespoon

Lemon juice

2 Teaspoon

Lemon peel

1/2 Teaspoon

, grated

Parsley

2 Teaspoon

, finely chopped

3/4 cup flaked Dungeness crab meat, watercress for garnish
Directions
Peel and devein shrimp and cut lengthwise almost, but not quite, in half.
Mix together the mayonnaise, sour cream, lemon juice, lemon peel, and parsley.
Mix in the crab meat.
Spread crab filling inside the split shrimp and press together lightly.
Cover and chill until serving time.
Serve on a platter garnished with watercress.