»

Recipes

»

Pita

»

Crab Pitas
Crab Pitas Recipe
Crab Pitas is an irresistible mouth-watering recipe. An easy to prepare crab recipe, Crab Pitas is a dish that you would surely love to try.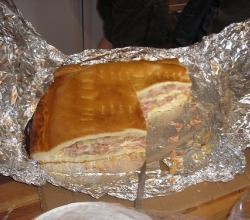 Ingredients
Ricotta cheese

8 Ounce

Egg

1

Chopped parsley

2 Tablespoon

Green onions

2

, chopped

Grated lemon peel

1 Teaspoon

Worcestershire

1⁄4 Teaspoon

Tabasco

1 Dash

Salt

1⁄4 Teaspoon

Dungeness crabmeat/Small cooked shrimp

8 Ounce

Grated parmesan cheese

1⁄3 Cup (5.33 tbs)

Filo dough sheets

12

Butter

4 Tablespoon

, melted
Nutrition Facts
Serving size
Calories 456 Calories from Fat 195
% Daily Value*
Total Fat 19 g29.1%
Saturated Fat 10.2 g51%
Trans Fat 0 g
Cholesterol 110.1 mg
Sodium 650.6 mg27.1%
Total Carbohydrates 47 g15.5%
Dietary Fiber 2.4 g9.6%
Sugars 2.4 g
Protein 23 g46.2%
Vitamin A 21.4% Vitamin C 16%
Calcium 50.6% Iron 4.3%
*Based on a 2000 Calorie diet
Directions
Mix together the ricotta, egg, parsley, onions, lemon peel, Worcestershire, Tabasco, salt, crab, and Parmesan.
Lay out filo dough and cover with clear plastic wrap.
Using one sheet,at a time, brush lightly with butter.
Cut into 6 strips, each about 3 inches wide.
Place a teaspoonful of cheese filling at one end of each.
Fold each strip like a flag and place seam side down on a greased baking sheet.
Brush tops with melted butter.
Bake in a 350° oven for 15 minutes or until golden brown.