»

Recipes

»

Crab

»

Crab Meat Sandwich
Crab Meat Sandwich Recipe
Sandwich is a common and popular snack food which often makes mini meal. Crab meat sandwich is one such sandwich, that is enjoyed by everyone. There are many ways to prepare crab meat sandwich. Here is one such recipe for you to enjoy.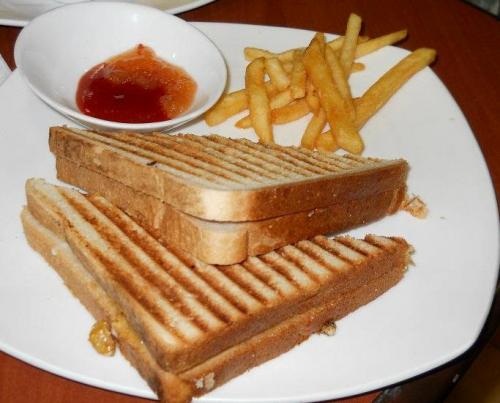 Ingredients
Crab meat

1 Cup (16 tbs)

Cheese

1⁄2 Cup (8 tbs)

, shredded

Celery

1⁄4 Cup (4 tbs)

, chopped

Pickle relish

2 Tablespoon

Green onion

2 Tablespoon

, chopped

Hard cooked egg

1

, chopped

Lemon juice

1⁄2 Teaspoon

Prepared horseradish

1⁄2 Teaspoon

Bread slice

10

Tomato slices

5

Butter

1 Tablespoon

Salt

To Taste

Pepper

To Taste
Nutrition Facts
Serving size
Calories 267 Calories from Fat 91
% Daily Value*
Total Fat 10 g16%
Saturated Fat 5.4 g27.2%
Trans Fat 0 g
Cholesterol 70 mg
Sodium 532 mg22.2%
Total Carbohydrates 29 g9.6%
Dietary Fiber 1.9 g7.7%
Sugars 3.1 g
Protein 14 g28.4%
Vitamin A 15% Vitamin C 8.7%
Calcium 15.8% Iron 10.7%
*Based on a 2000 Calorie diet
Directions
MAKING
1)In a bowl, mix together crab meat, cheese, celery, relish, onion, egg, salad dressing, lemon juice and horseradish.
2)Spread this mixture on 5 slices of bread.
3)Add tomato slices and season with salt and pepper.
4)Place the remaining bread slices on top.
5)Now, butter top of bread and place on griddle, turning once, until golden brown.

SERVING
6)Serve the crab meat sandwich hot.