»

Recipes

»

Pastry

»

Crab In Puff Pastry
Crab in Puff Pastry Recipe
Prepare this elegant dish for the next special occasion. Flaky layers of puff pastry sandwich savory seafood and a creamy white wine sauce.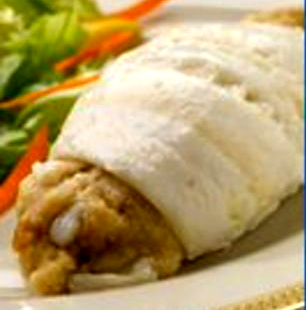 Summary
Preparation Time
20 Min
Cooking Time
50 Min
Ready In
1 Hr 10 Min
Difficulty Level
Medium
Health Index
Healthy
Servings
4
Ingredients
Frozen puff pastry

8 13⁄20 Ounce

(1/2 package)

Butter/Margarine

2 Tablespoon

Green onions

2 Tablespoon

, thinly sliced (2 medium sized)

All purpose flour

2 Tablespoon

(Gold Medal®)

Milk

1⁄2 Cup (8 tbs)

Heavy whipping cream

1⁄2 Cup (8 tbs)

Cooked crabmeat/Shrimp or lobster

1 1⁄2 Cup (24 tbs)

Sauvignon blanc/Dry white wine or clam juice

1⁄2 Cup (8 tbs)

Chopped parsley

2 Tablespoon

(fresh)

Shredded lemon peel

1 Teaspoon

(shredded finely)

Salt

1⁄4 Teaspoon

Pepper

1⁄8 Teaspoon
Nutrition Facts
Serving size
Calories 318 Calories from Fat 173
% Daily Value*
Total Fat 20 g30.2%
Saturated Fat 11.4 g57.2%
Trans Fat 0 g
Cholesterol 107.7 mg
Sodium 1115.5 mg46.5%
Total Carbohydrates 10 g3.3%
Dietary Fiber 0.85 g3.4%
Sugars 1.8 g
Protein 20 g40.4%
Vitamin A 32.3% Vitamin C 36.7%
Calcium 12.4% Iron 9.3%
*Based on a 2000 Calorie diet
Directions
1. Heat oven to 350ºF. Unfold pastry sheet; place on lightly floured surface. Roll into 10-inch square. Cut in half; place one half on top of the other. Roll to seal edges. Cut crosswise into 4 equal pieces. Place on ungreased cookie sheet. Bake about 20 minutes or until golden brown.
2. Melt butter in 2-quart saucepan over low heat. Cook onions in butter, stirring occasionally, until tender. Stir in flour. Cook, stirring constantly, until mixture is bubbly; remove from heat.
3. Gradually stir in milk and whipping cream. Heat to boiling, stirring constantly. Boil and stir 1 minute. Stir in remaining ingredients; heat through.
4. Split each pastry horizontally with fork. Spoon crab mixture over bottom halves; top with remaining pastry halves. Garnish with additional parsley if desired.