»

Recipes

»

Seafood

»

Crab Cakes Italiano
Crab Cakes Italiano Recipe
Here is an easy crab cake recipe just for you. My sister is crazy about cooking. When she comes home during holidays,she generally cook this crab cake. It is very delicious and my whole family enjoys it. You must try this crab cake recipe.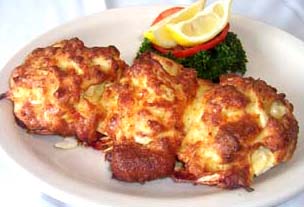 Ingredients
Basil pesto

2 Tablespoon

Crabmeat/Imitation crabmeat, shredded

1 Pound

, leaned and rinsed, (fresh lump)

Crabmeat

1 Pound

, leaned and rinsed (imitation crabmeat)

Italian bread crumbs

1⁄2 Cup (8 tbs)

(Progresso®)

Mayonnaise/Reduced-fat mayonnaise

1⁄3 Cup (5.33 tbs)

Egg

1

, beaten

Olive oil

2 Tablespoon

Italian plum tomato slices

3

Basil sprig

1

(fresh)

Julienne-cut sun-dried tomatoes

250 Gram

Julienne cut sun dried tomatoes

250 Gram
Nutrition Facts
Serving size
Calories 703 Calories from Fat 246
% Daily Value*
Total Fat 29 g44.1%
Saturated Fat 3.4 g16.9%
Trans Fat 0 g
Cholesterol 177.3 mg
Sodium 3671.8 mg153%
Total Carbohydrates 84 g28%
Dietary Fiber 16.5 g66%
Sugars 49.7 g
Protein 42 g83.4%
Vitamin A 28.8% Vitamin C 129.1%
Calcium 27.8% Iron 68.1%
*Based on a 2000 Calorie diet
Directions
1. In small bowl, mix sauce ingredients. Cover and refrigerate until serving.
2. In large bowl, mix all crab cake ingredients except oil. Using 1/3 cup mixture for each, shape into eight 3-inch patties.
3. In 10-inch nonstick skillet, heat oil over medium heat until hot. Add patties; cook 4 to 5 minutes on each side or until golden brown and thoroughly cooked. Drain on paper towels. Serve crab cakes topped with sauce. Garnish as desired.