»

Recipes

»

Crab Avocado And Asparagus Salad
Crab Avocado and Asparagus Salad Recipe
This mix of greens including asparagus, a source of folate and vitamin makes this crab salad ultranutritious.
Picture Credit: John Kernick
Recipe By: Melissa Rubel Jacobson
Pairing Notes: Portuguese Vinho Verde has a bright acidity and a seashell minerality that make it ideal for seafood dishes like this one.
For more recipes, please visit Foodandwine.com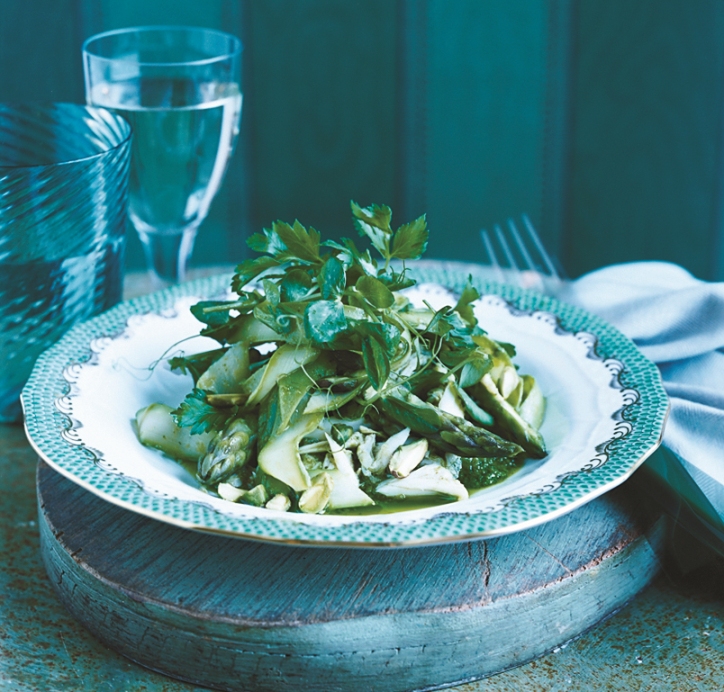 Ingredients
Asparagus

1 Pound

(Thick)

Extra virgin olive oil

7 Tablespoon

Fresh lemon juice

3 Tablespoon

Basil leaves

6 Medium

Shallot

1 Small

, coarsely chopped

Flat leaf parsley leaves

1⁄2 Cup (8 tbs)

Kosher salt

To Taste

Freshly ground pepper

To Taste

Pea shoots

3 1⁄2 Ounce

, trimmed

Salted roasted pistachios

1⁄4 Cup (4 tbs)

, coarsely chopped

Jumbo lump crab meat

1 Pound

Hass avocados

2

, each cut into 8 wedges
Nutrition Facts
Serving size: Complete recipe
Calories 2123 Calories from Fat 1559
% Daily Value*
Total Fat 174 g268.1%
Saturated Fat 16.1 g80.6%
Trans Fat 0 g
Cholesterol 416 mg
Sodium 3106.8 mg129.4%
Total Carbohydrates 68 g22.5%
Dietary Fiber 36.7 g146.8%
Sugars 12.1 g
Protein 90 g180.6%
Vitamin A 232.3% Vitamin C 238.8%
Calcium 41.9% Iron 86.5%
*Based on a 2000 Calorie diet
Directions
1. Bring a saucepan of salted water to a boil. Fill a bowl with ice water. Cut off 1 inch of the asparagus tips and cut each tip in half lengthwise. Using a peeler or mandoline, shave the asparagus spears lengthwise. Blanch the asparagus tips and strands in the boiling water until just heated through, 10 seconds. Drain and transfer to the ice water to chill; drain well. Pat dry and transfer to a bowl.
2. In a blender, blend the oil, lemon juice, basil, shallot and 1/4 cup of the parsley. Season the dressing with salt and pepper.
3. Add the pea shoots, pistachios and the remaining 1/4 cup of parsley leaves to the asparagus. Toss with half of the dressing and season with salt and pepper. Add the crab, avocado and the remaining dressing, toss gently and serve at once.

One Serving: 279 cal, 22 gm fat, 2.9 gm sat fat, 9 gm carb, 4.1 gm fiber.