»

Recipes

»

Tart

»

Courgette Tart
Courgette Tart Recipe
Courgette Tart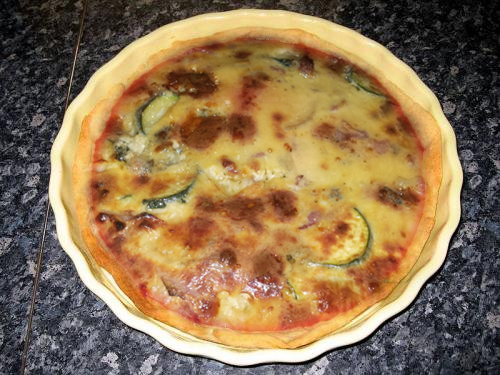 Ingredients
Courgettes

12 Ounce

(350 Gram)

Butter

1⁄2 Ounce

(15 Gram)

Onion

1 Small

, chopped

Chopped fresh tarragon/1/2 teaspoon dried tarragon

1 Teaspoon

Eggs

2 Large

Soured cream

5 Fluid Ounce

(142 Milliliter)

Grated parmesan cheese

3 Tablespoon

Pastry dough

1 Cup (16 tbs)

Salt

To Taste

Pepper

To Taste
Nutrition Facts
Serving size
Calories 478 Calories from Fat 280
% Daily Value*
Total Fat 31 g48.3%
Saturated Fat 14.6 g73.1%
Trans Fat 0 g
Cholesterol 142.5 mg
Sodium 592 mg24.7%
Total Carbohydrates 39 g13%
Dietary Fiber 2.6 g10.6%
Sugars 4.4 g
Protein 12 g23.4%
Vitamin A 13.9% Vitamin C 29.5%
Calcium 22% Iron 11.1%
*Based on a 2000 Calorie diet
Directions
GETTING READY
1. Line an 8 inch quiche or tart tin with rolled pastry dough to make a pastry shell
2. Wash and cut the courgettes into dices without peeling them.
3. Preheat the oven to 350°F, 180°C

MAKING
4. In a medium skillet, melt the butter over medium heat.
5. Add the courgettes, onion and tarragon and sauté until onion is soft.
6. Cover the pan, reduce the heat and cook the courgettes until they are almost tender. Stir occasionally. Take off the heat and cool slightly.
7. In a mixing bowl beat the eggs with cream. Season with salt and pepper.
8. Add the courgette mixture and the cheese to the eggs and fold in using a spatula.
9. Turn the mixture into the pastry shell.

Finalizing
10. Place the pie dish on a baking sheet and bake in the preheated oven for 40-45 minutes until the eggs are set and a lightly browned on top.
11. Remove the pie from the oven and cool slightly

SERVING
12. Cut into wedges and serve warm.