»

Recipes

»

Bread

»

County Fair Egg Bread
County Fair Egg Bread Recipe
County fair eggs bread is less of a dinner bread and more of a cake or dessert like bread. It is better served as a sweet bread. County fair bread can be eaten warm with butter and jam. It isn't very complicated to bake this bread. Bake yourself and enjoy the county fair eggs bread.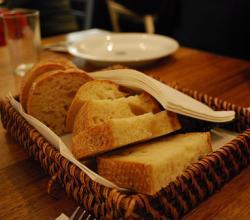 Ingredients
Butter

1⁄2 Cup (8 tbs)

Salt

2 Teaspoon

Sugar

1⁄2 Cup (8 tbs)

Milk

1 1⁄2 Cup (24 tbs)

, scalded

Milk

1 1⁄2 Cup (24 tbs)

Water

1⁄2 Cup (8 tbs)

(Lukewarm)

Lukewarm water

1⁄2 Cup (8 tbs)

Eggs

2

All purpose flour

9 Cup (144 tbs)

, sifted

All purpose flour

9 Cup (144 tbs)
Nutrition Facts
Serving size
Calories 1656 Calories from Fat 212
% Daily Value*
Total Fat 24 g37.2%
Saturated Fat 12.8 g64.2%
Trans Fat 0 g
Cholesterol 122.1 mg
Sodium 724.9 mg30.2%
Total Carbohydrates 309 g103%
Dietary Fiber 10.1 g40.5%
Sugars 23.7 g
Protein 45 g89.3%
Vitamin A 13.3% Vitamin C
Calcium 19.8% Iron 98.6%
*Based on a 2000 Calorie diet
Directions
MAKING
1)In a mixing bowl, add butter, salt and sugar and add hot milk.
2)Let it cool completely.
3)Dissolve yeast in lukewarm water and mix it with milk mixture.
4)Add eggs and beat.
5)Then, add 3 cups flour and beat until smooth like sponge.
6)Add enough flour to make soft and easily handled dough.
7)On a floured surface, knead until smooth and elastic.
8)Take a greased bowl and put the dough. Cover it.
9)Let rise for 1 hour and 30 minutes or until doubled in bulk.
10)Punch it down and s into 3 loaves.
11)Take greased 8-inch loaf pans and put the loaves.
12)Let rise until doubled in bulk again.
13)Bake at 425 degrees for 10 minutes.
14)Then, decrease temperature to 350 degrees and bake for 40 minutes.

SERVING
15)Serve the county fair egg bread with butter or jam.