»

Recipes

»

Beet

»

Country Pasta With Beets And Walnuts
Country Pasta With Beets And Walnuts Recipe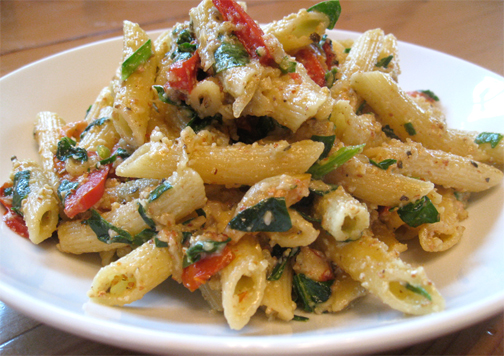 Ingredients
Olive oil

2 Teaspoon

Red onions

1 Cup (16 tbs)

, diced

Walnuts

1 Ounce

, chopped

Garlic

2 Clove (10 gm)

Garlic

2 Clove (10 gm)

, minced

All-purpose flour

1 Teaspoon

All purpose flour

1 Teaspoon

1% milk

1 Cup (16 tbs)

Low fat milk

1 Cup (16 tbs)

Camembert

3 Ounce

Camembert cheese

3 Ounce

, cut into small pieces with rind and paper removed

Beets

2 Cup (32 tbs)

, cooked

Beets

2 Cup (32 tbs)

(Fresh Cooked Or Drained Canned Julienne-Cut)

Penne/Ziti macaroni

2 Cup (32 tbs)

, cooked
Nutrition Facts
Serving size
Calories 330 Calories from Fat 115
% Daily Value*
Total Fat 13 g20.3%
Saturated Fat 4.1 g20.6%
Trans Fat 0 g
Cholesterol 16.5 mg
Sodium 272.8 mg11.4%
Total Carbohydrates 42 g14%
Dietary Fiber 5.8 g23.4%
Sugars 11.7 g
Protein 14 g27.3%
Vitamin A 20.6% Vitamin C 13.8%
Calcium 19.7% Iron 9%
*Based on a 2000 Calorie diet
Directions
MAKING
1) Take a nonstick skillet of size 10 inch and heat it over medium to high heat.
2) Add the walnuts, onions, and garlic to it and cook for a minute stirring often or until the onions become translucent.
3) Add the flour to it, stirring continuously and cook for a minute more.
4) Remove the skillet from flame and add milk to it before replacing it on heat.
5) Add the cheese and keep stirring, cooking for 5 minutes approximately until the mixture becomes thick, and the cheese melts completely.
6) Keep stirring and increase the heat to medium, allowing the mixture to boil.
7) Add the pasta along with the beet juliennes and toss it, coating the ingredients.
8) Cook for an additional 1-2 minutes until the dish is heated through and through.

SERVING
9) Serve as required.