»

Recipes

»

Stuffing

»

Cornish Hens With Spicy Stuffing
Cornish Hens With Spicy Stuffing Recipe
This is the best ever Cornish Hens with Spicy Stuffing I have ever tasted. A perfect combination of flavors of Chicken with other ingredients is the secret to this Cornish Hens with Spicy Stuffing. Serve it as a main dish. Enjoy the Cornish Hens with Spicy Stuffing recipe.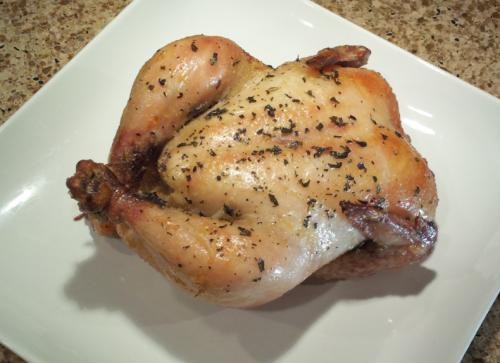 Ingredients
Stale bread crumbs-3 1/2 cups

Sweet mixed pickles-1/2cup, chopped

Dried figs

1/2 Cup (16 tbs)

, diced

Egg

1

Salt

1/4 Teaspoon

Poultry seasoning

1/8 Teaspoon

Celery

1/2 Cup (16 tbs)

, chopped

Butter

1/4 Cup (16 tbs)

Cornish hens-4 frozen (1 pound), thawed
Directions
MAKING
1)In a bowl, mix together bread crumbs, pickles, figs, egg, salt and poultry seasoning.
2)In a pan, heat butter and saute celery for 1 minute.
3)Mix it with bread mixture and toss well.
4)Fill the hens with the stuffing, tie it and arrange on a spit.
5)Take a rotisserie and roast hens for 1 hour or until tender and browned, brushing occasionally with additional melted butter.

SERVING
5)Serve with additional sweet mixed pickles.