»

Recipes

»

Pastry

»

Cornish Pastries
Cornish Pastries Recipe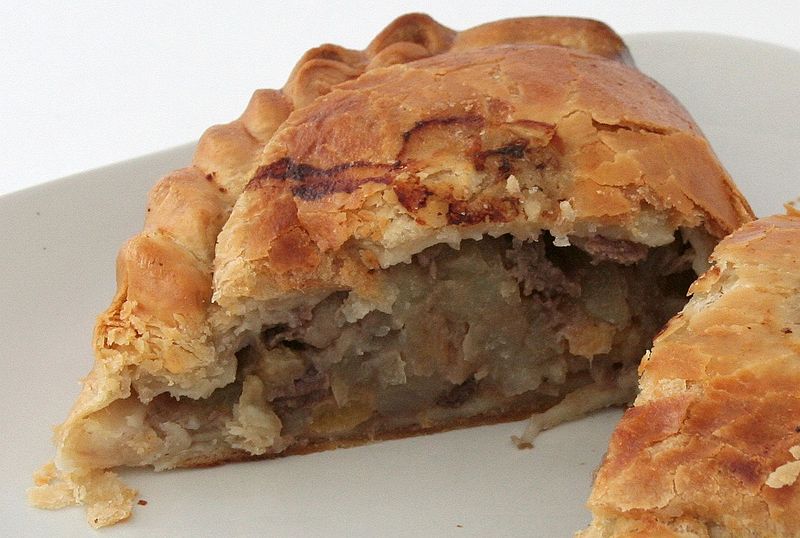 Ingredients
Pastry

2 Cup (32 tbs)

(Using Basic Recipe)

Round steak

1 1⁄2 Pound

Potatoes

4 Medium

Chopped onion

1 1⁄2 Cup (24 tbs)

Salt

1 1⁄2 Teaspoon

Black pepper

To Taste

Chopped parsley

4 Tablespoon

Butter/Margarine

4 Tablespoon
Nutrition Facts
Serving size: Complete recipe
Calories 3349 Calories from Fat 1537
% Daily Value*
Total Fat 172 g264.4%
Saturated Fat 63 g315%
Trans Fat 0 g
Cholesterol 405 mg
Sodium 3682.6 mg153.4%
Total Carbohydrates 250 g83.5%
Dietary Fiber 31.2 g124.6%
Sugars 64.1 g
Protein 182 g364.4%
Vitamin A 131.5% Vitamin C 390.2%
Calcium 36.2% Iron 88.6%
*Based on a 2000 Calorie diet
Directions
Make pastry.
Chill it.
Cut steak into 1/2 inch cubes.
Peel potatoes, slice thin, then dice.
Mix meat, potatoes and onion.
Season with salt and lots of pepper.
Divide pastry into 4 parts.
Roll each into a 9 inch circle.
Heap 1/4 of the filling on half the circle.
Sprinkle with parsley and dot with butter.
Carefully fold pastry over filling, crimp edges together to seal.
Prick top with fork.
Bake in oven at 400° about 15 minutes.
Reduce heat to 350°.
Bake for 45 minutes to 1 hour
Image Courtesy :
http://commons.wikimedia.org/wiki/File:Cornish_pasty_-_cut.jpeg

pokiaa says :
Sorry to say that this is an adopted American cuisine! It originated in England, Cornwall to be exact and was brought here by the immigrating tin miners.
Posted on:
15 July 2012 - 12:05pm
Hi Pokiaa, Yes you are right. I have changed the tagging to UK now. Hope that is more appropriate.
Posted on:
16 July 2012 - 9:04am