»

Recipes

»

Bread

»

Cornish Hens With Cornbread Stuffing
Cornish Hens with Cornbread Stuffing Recipe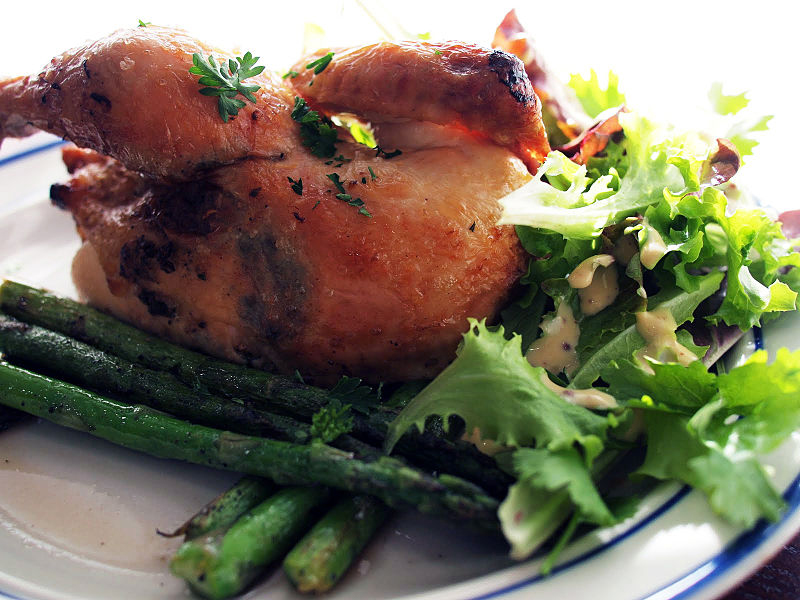 Ingredients
For the stuffing

Unsalted butter

1⁄4 Pound

(1 Stick)

Chopped yellow onion

1 Cup (16 tbs)

Diced celery

1 1⁄2 Cup (24 tbs)

(Medium Diced, 3 Stalks)

Chopped fresh flat leaf parsley

3 Tablespoon

Coarsely crumbled cornbread

13 Ounce

(5 Cups)

Chicken stock

1⁄2 Cup (8 tbs)

(Preferably Homemade)

For hens

Cornish hens

1 1⁄2 Pound

(6 Fresh Hens, 1 1/4 To 1 1/2 Pound)

Sliced yellow onions

2 Cup (32 tbs)

(2 Onions)

Kosher salt

To Taste

Freshly ground black pepper

To Taste

Unsalted butter

2 Tablespoon

, melted
Nutrition Facts
Serving size
Calories 902 Calories from Fat 502
% Daily Value*
Total Fat 56 g86.9%
Saturated Fat 25.8 g129.1%
Trans Fat 0 g
Cholesterol 249.8 mg
Sodium 918.2 mg38.3%
Total Carbohydrates 59 g19.8%
Dietary Fiber 5.2 g20.8%
Sugars 5.4 g
Protein 39 g77.1%
Vitamin A 44.6% Vitamin C 28.9%
Calcium 20.2% Iron 31.7%
*Based on a 2000 Calorie diet
Directions
Preheat the oven to 400 degrees.
For the stuffing, melt the butter in a medium saute pan, add the onion, and cook over medium-low heat for 8 minutes, until translucent.
Off the heat, add the celery, parsley, cornbread, and chicken stock and mix well.
Set aside.
For the hens, rinse them inside and out, removing any pin feathers, and pat the outsides dry.
In a roasting pan that's just large enough to hold the hens loosely, first toss in the onions and then place the hens on top, breast side up.
Sprinkle the insides of the hens with salt and pepper and loosely fill the cavities with the stuffing.
(If there is stuffing left over, bake it in a separate pan until heated through.) Tie the legs of each hen together and tuck the wings under the bodies.
Brush with melted butter, sprinkle with salt and pepper, and roast for 50 to 60 minutes, until the skin is browned and the juices run clear when you cut between a leg and thigh.
Remove from the oven, cover with aluminum foil, and allow to rest for 15 minutes.
Serve a whole hen per person.
Image Courtesy :
http://commons.wikimedia.org/wiki/File:Rock_Cornish_Hen.jpg