»

Recipes
Cornbread Recipe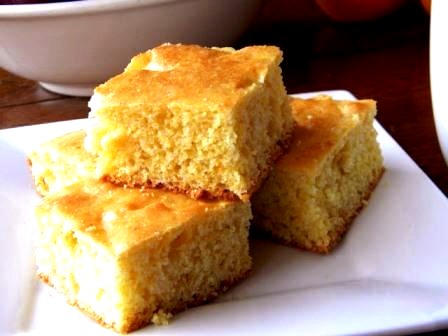 Ingredients
All purpose flour

1 Cup (16 tbs)

Sugar

2 Tablespoon

Baking powder

3 Teaspoon

Salt

1/2 Teaspoon

Yellow cornmeal

1 Cup (16 tbs)

Egg

1

, beaten

1/4 cup salad oil or shortening, melted

Milk

1 Cup (16 tbs)

Sift before measuring.
Directions
Preheat oven to 425F.
Grease an 8-by-8-by-2- inch baking pan.
Sift flour with sugar, baking powder, and salt.
Add cornmeal, mixing well; set aside.
In medium bowl, combine egg, salad oil, and milk, mixing well.
Add flour mixture, stirring only until flour mixture is moistened.
Spoon batter into prepared pan; bake 20 to 25 minutes, or until golden-brown.
To serve, cut into squares.
Serve hot, with butter.
Makes 9 servings.