»

Recipes

»

Fritter

»

Corn Fritters
Corn Fritters Recipe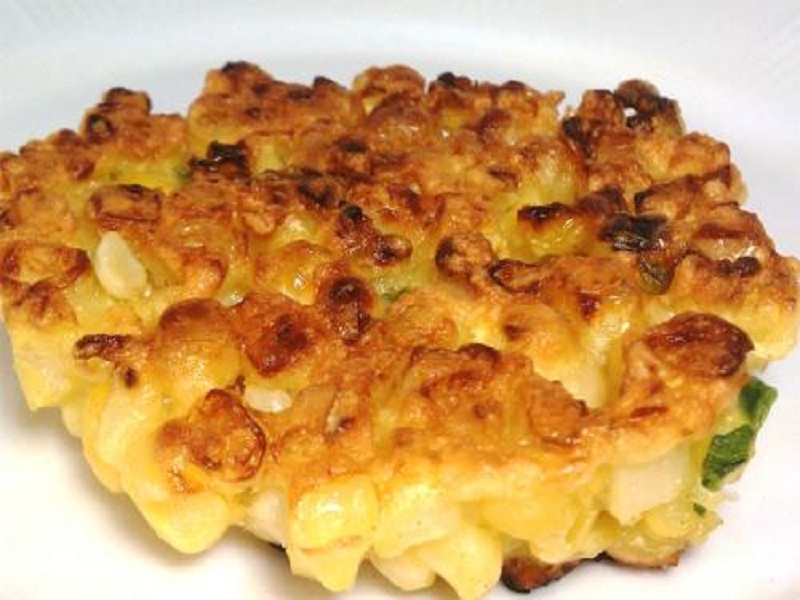 Ingredients
Sifted flour

1 Cup (16 tbs)

Baking powder

1 Teaspoon

Salt

3⁄4 Teaspoon

Paprika

1⁄8 Teaspoon

Eggs

2

, separated

Whole kernel corn

2 Cup (32 tbs)

, drained

Liquid

1⁄2 Cup (8 tbs)

(From Corn)

Fat

1 Cup (16 tbs)

(For Frying)
Nutrition Facts
Serving size
Calories 143 Calories from Fat 112
% Daily Value*
Total Fat 12 g19.1%
Saturated Fat 3.7 g18.5%
Trans Fat 0 g
Cholesterol 33.6 mg
Sodium 116.5 mg4.9%
Total Carbohydrates 6 g2%
Dietary Fiber 0.27 g1.1%
Sugars 0.2 g
Protein 1 g3%
Vitamin A 0.9% Vitamin C 0.27%
Calcium 2.5% Iron 2.6%
*Based on a 2000 Calorie diet
Directions
Heat fat to 365° in deep fat fryer.
Sift dry ingredients together.
Put the egg yolks, 1 cup of the corn and the corn liquid into Osterizer container, cover and process at LIQUEFY until well blended.
Add half the dry ingredients and continue to process.
Use a rubber spatula to push the ingredients down from the sides of the container.
Add the remaining dry ingredients and process until well blended.
Add remaining corn just before turning off.
Beat egg whites with a rotary beater until stiff.
Gradually fold in the processed mixture.
Drop from tablespoon into hot fat and fry until golden brown.
Drain on absorbent paper.
Serve hot with maple syrup.