»

Recipes

»

Fritter

»

Corn Fritters
Corn Fritters Recipe
Corn Fritters has a Piquant taste. The egg and corn gives the Corn Fritters Striking taste.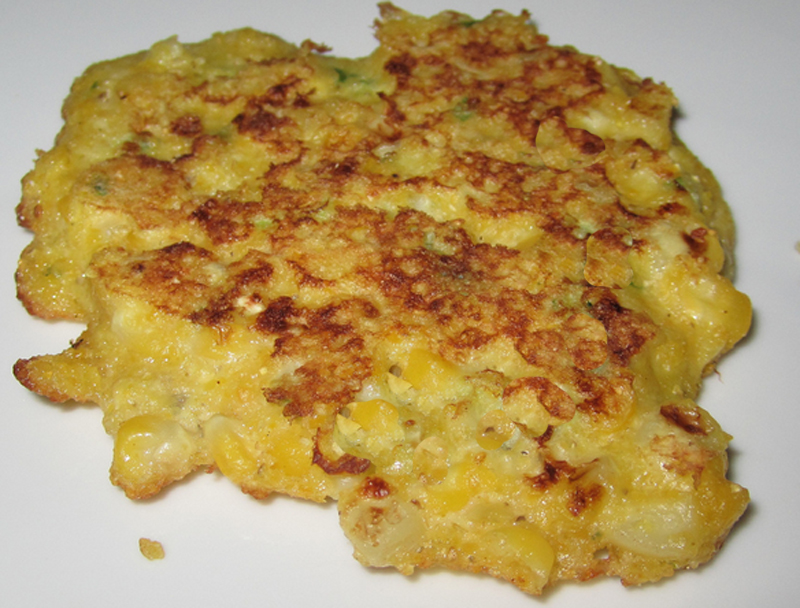 Ingredients
Egg

1

Milk

1⁄2 Cup (8 tbs)

Whole kernel corn

1 Can (10 oz)

Vegetable shortening

1 Tablespoon

, melted

Flour

1 Cup (16 tbs)

, sifted

Sugar

1 Tablespoon

Salt

1⁄2 Teaspoon

Baking powder

1 Teaspoon

Vegetable shortening

1 Cup (16 tbs)

(For Deep Frying)
Nutrition Facts
Serving size: Complete recipe
Calories 1042 Calories from Fat 402
% Daily Value*
Total Fat 45 g69.8%
Saturated Fat 12.7 g63.6%
Trans Fat 4.7 g
Cholesterol 222.8 mg
Sodium 1637.3 mg68.2%
Total Carbohydrates 133 g44.5%
Dietary Fiber 5.2 g20.8%
Sugars 25.3 g
Protein 25 g49.3%
Vitamin A 7.2% Vitamin C 6.1%
Calcium 54.2% Iron 40.8%
*Based on a 2000 Calorie diet
Directions
In bowl, combine egg and milk.
Stir in corn and melted vegetable shortening.
Combine flour, sugar, salt, and baking powder; add to egg mixture; stir just to evenly distribute ingredients.
Drop from tablespoon, a few at a time, into deep vegetable shortening heated to 375° .
Fry until golden and cooked through, 4 to 5 minutes.
Drain on paper toweling.
Image Courtesy :
http://www.flickr.com/photos/vanhoosear/6067829683/