»

Recipes

»

Fritter

»

Corn Fritters
Corn Fritters Recipe
Crunchy Corn Fritters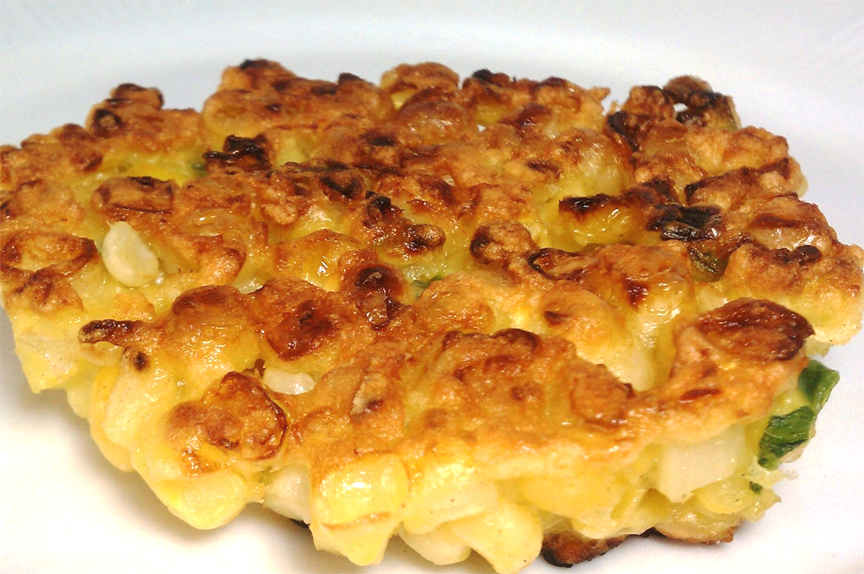 Summary
Preparation Time
8 Min
Cooking Time
25 Min
Ready In
33 Min
Difficulty Level
Medium
Health Index
Average
Servings
5
Ingredients
| | | |
| --- | --- | --- |
| | All purpose flour | 1⁄4 Cup (4 tbs) |
| | Baking powder | 2 1⁄4 Teaspoon |
| | Salt | 3⁄4 Teaspoon |
| | Egg | 1 |
| | Milk | 3⁄4 Cup (12 tbs) |
| | Canned whole kernel corn | 12 Ounce |
| | Salad oil | 1 1⁄2 Tablespoon |
| | Salad oil | 200 Milliliter |
Nutrition Facts
Serving size
Calories 485 Calories from Fat 418
% Daily Value*
Total Fat 47 g72.6%
Saturated Fat 3 g15.1%
Trans Fat 0.8 g
Cholesterol 45.7 mg
Sodium 501.4 mg20.9%
Total Carbohydrates 13 g4.4%
Dietary Fiber 1.8 g7.2%
Sugars 5.7 g
Protein 4 g8.2%
Vitamin A 1.7% Vitamin C
Calcium 21% Iron 4.1%
*Based on a 2000 Calorie diet
Directions
GETTING READY
1) Arrange all the ingredients.

MAKING
2) In a mixing bowl, sift flour with baking powder and salt.
3) In small bowl, with rotary beater, beat egg white until stiff peaks form when beater is slowly raised.
4) In medium bowl, with same beater, beat egg yolk, milk, and 1-1/2 tablespoons salad oil until smooth.
5) Gradually add flour mixture, beating until smooth.
6) Gently fold in egg white gently.
7) Add corn; stir until well combined.
8) In electric skillet or heavy saucepan, slowly heat salad oil (at least 2 inches deep) to 375 F on deep-frying thermometer.
9) Into hot oil, drop corn mixture by large spoonfuls (about 1/4 cup), a few at a time.
10) Deep-fry, turning once, about 5 minutes, or until golden-brown.
11) Drain well on paper towels.

SERVING
12) Serve hot corn fritters with hot maple syrup.